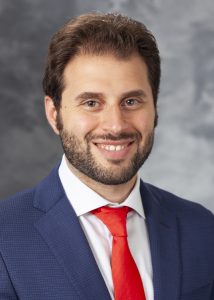 Join us in welcoming Talal AI-Qaoud, MD, MSc, to our faculty as an Assistant Professor in the Division of Transplantation, with a 10% appointment with the Department of Urology. His practice will focus on kidney and pancreas transplantation, with a focus on the urological aspects of transplantation. He joins our faculty November 1st.
Dr. Al-Qaoud will be assisting with the expansion of the loin pain hematuria syndrome program, adding to the program's momentum as the highest volume center of its kind in the world. Dr. Al-Qaoud will also be working on transplant global health initiatives.
He received his medical degree from the University of Manchester, completed his residency in urology at McGill University, and completed his abdominal transplant surgery fellowship here in 2018. Welcome, Dr. Al-Qaoud!