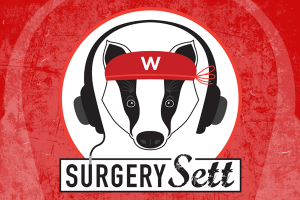 Congratulations to the team behind the Surgery Sett podcast, which recently produced its 100th episode. The podcast, led by Jonathan Kohler, MD, has been downloaded more than 45,000 times by listeners across the nation and the world.
This milestone is a testament to the hard work and dedication of many people in the department over the years, including Department of Surgery leadership, our faculty and resident guests, and our administrative team.
The podcast has included interviews with surgeons and other visiting medical professionals, along with our own surgeons and researchers.
Most recently, the podcast explored the impact of COVID-19 on the medical community with the series, "The Frontlines of COVID." You can find these episodes and more online, or wherever you get your favorite podcasts.