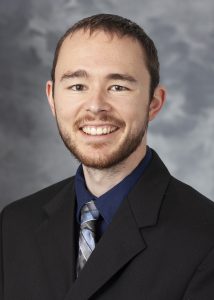 The Department of Surgery is pleased to have Dr. Chad Ennis join us as faculty and Assistant Professor in the Division of Otolaryngology. He will be based at the UW Health 1 S. Park Clinic and the UnityPoint Health-Meriter campus where he will build a robust general otolaryngology practice. He will also serve at the William S. Middleton Memorial Veterans Hospital where he will provide OR and clinic coverage.
Dr. Ennis' interests include resident and medical student education. He has always valued the input of mentors throughout his journey in medicine. Given this, he enjoys finding mentorship opportunities to help others along their training pathway. He earned his Bachelor of Science degree from the University of Wisconsin–Madison in neurobiology and psychology and earned his MD and completed his otolaryngology residency at the University of Wisconsin School of Medicine and Public Health. A true Badger!
Dr. Ennis can be contacted at ennis@surgery.wisc.edu or (608) 287-2172.
Welcome Dr. Ennis!