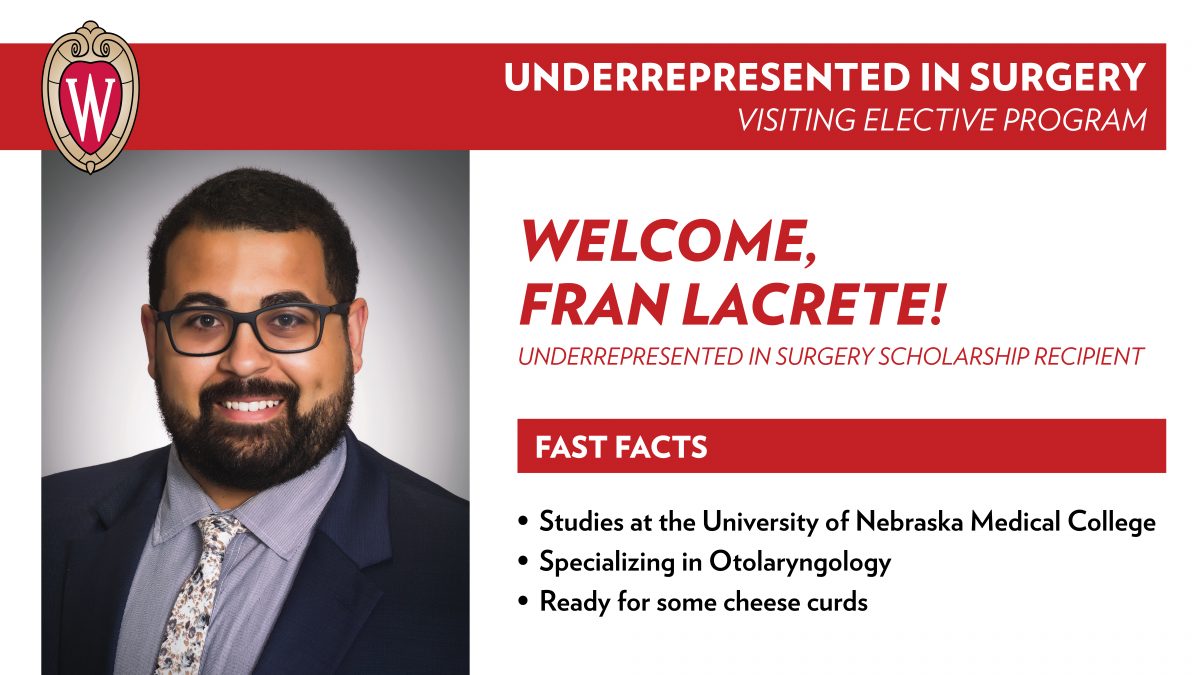 Disclaimer: As of February 25, 2022, the program name has changed from Underrepresented in Surgery to Underrepresented in Medicine (URiM).
Frantzlee LaCrete, is spending his time in Wisconsin looking to both the future and the past. For his rotation through the Underrepresented in Surgery (URS) Visiting Elective Program, LaCrete is studying under the Division of Otolaryngology at Wisconsin Surgery, which only scratches the surface of his expansive experience as administrator, practitioner, and even patient.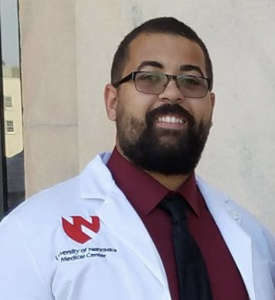 While LaCrete completed rotations in other areas aside from Otolaryngology, his interest in the field was solidified through two events as a medical student at the University of Nebraska Medical Center (UNMC) in Omaha. The first: a rotation at MD Anderson in Houston, Texas, where he cites his time with Jeffery Myers, MD, PhD, as a big influence on LaCrete's career goals.
The second was even more personal: in 2019, LaCrete was diagnosed with Stage 1A thyroid cancer. LaCrete finished his ongoing rotation, in surgical oncology, of all specialties, and then underwent surgery, had the tumor removed and monitored his recovery over spring break. Without skipping a beat, he hopped into his next rotation once break ended.
Now, LaCrete is poised to graduate this December with his MPH and next May, with his MD. As he continues to learn more about the medical world, LaCrete focuses on recruitment and leadership. For two years, he has been involved with UNMC's Admissions Committee, and other on-campus involvement includes the search for the Associate Dean of Diversity, Equity, & Inclusion for the College of Medicine and as a representative on UNMC's chapter of the Liaison Committee on Medical Education, specifically on its subcommittee for diversity, professionalism, and wellness.
This past year, LaCrete founded Recruit, Encourage and Advance Careers in Healthcare, or REACH, which UNMC described as an effort "to increase interests in health care to local high school students." LaCrete piloted the program with 10th grade students at Benson High School in Omaha and featured virtual lectures about healthcare practices, current health disparities and solutions.
At Wisconsin Surgery, in the meantime, LaCrete said he has enjoyed working with Gregory Hartig, MD, FACS, on head-neck surgical cases, and Tiffany Glazer, MD. While this may be his first visit to Madison, LaCrete said that Madison's juxtaposing bustling downtown and quiet surrounding fields reminds him of Omaha, and he's eager to try certain cheese curds in Wisconsin that have connections to dairy farms in Nebraska.