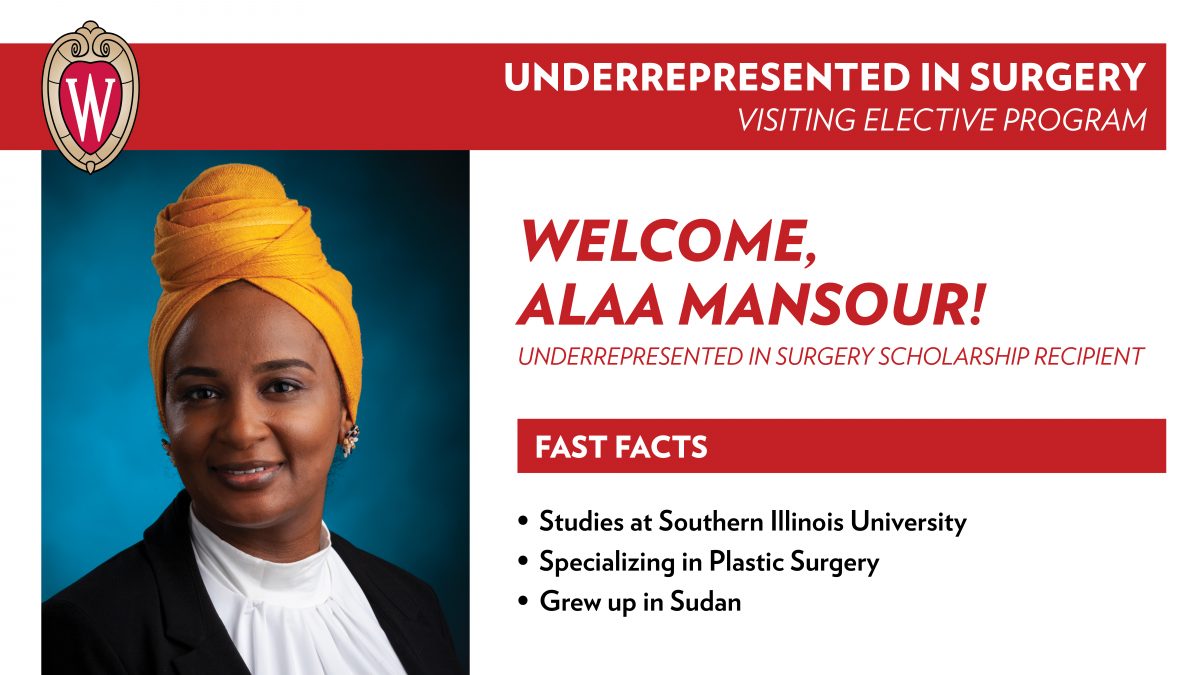 Disclaimer: As of February 25, 2022, the program name has changed from Underrepresented in Surgery to Underrepresented in Medicine (URiM).
Alaa Mansour's medical journey has taken her all over the Midwest; as a participant Underrepresented in Surgery (URS) Visiting Elective Program, that means she recently spent two weeks with the Wisconsin Department of Surgery's Division of Plastic Surgery. Her passion for surgery, however, didn't begin in the Midwest, but in Sudan, where Mansour grew up.
Mansour had two cousins who had cleft clip and cleft palette in Sudan, both of whom ended up passing away from complications related to their conditions. She described cleft lip and cleft palette as having a negative stigma in Sudan, and Mansour began a long journey of education to remove that stigma and honor her cousins' memory.
To fuel that passion, Mansour pushed to fulfill her ambitions as a scientist despite pressure from her family to be complacent with her education. She conducted research at the School of Veterinary Medicine at the University of Sudan, but to complete her own higher education, she relocated to Danville, IL. There, she juggled attending night school to learn English, raising two children, and completing junior college classes.
Mansour transferred to the University of Illinois-Urbana Champaign to complete her undergraduate degree in molecular and cellular biology and then began medical school at the Southern Illinois University School of Medicine in Springfield, IL. In her second year, Mansour sought research opportunities and found one in plastic surgery, falling in love with the field.
During her time with Wisconsin Surgery, she both honored her cousins' memory and fulfilled a career goal by assisting on a cleft palette operation with Catharine Garland, MD, director of the Cleft and Craniofacial Anomalies Clinic. Now, Mansour is prepping to graduate in May 2022, though she doesn't plan on committing to specific operations in plastics, citing flap surgery and cranial facial release as two fascinating procedures to her.