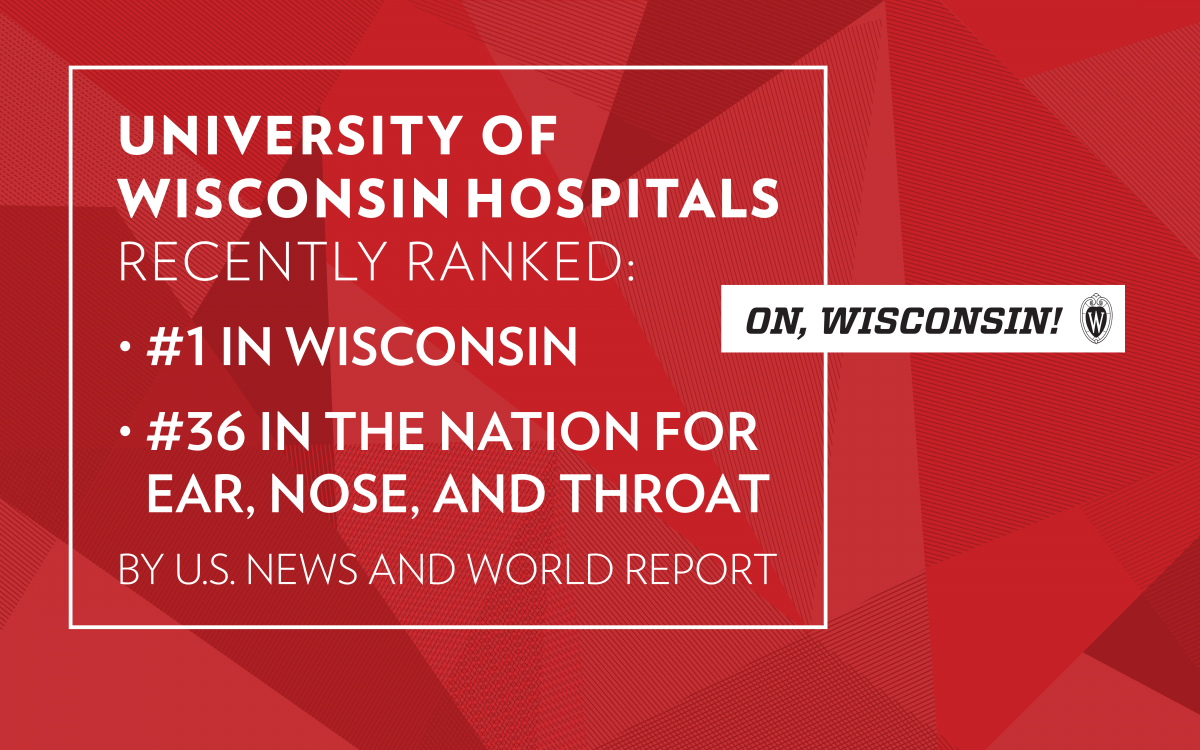 On July 27, U.S. News & World Report ranked University of Wisconsin Hospitals, including University Hospital and UW Health at The American Center, as No. 1 in Wisconsin for the 10th consecutive year as part of its "Best Hospitals" rankings.
The rankings come after U.S. News & World Report surveyed more than 4,500 hospitals. In addition to the overall ranking, several medical and surgical procedures received U.S. News' highest rating, including abdominal aortic aneurysm repair, heart bypass surgery, and colon and lung cancer surgeries. And the Division of Otolaryngology-Head & Neck Surgery was named the 36th best Ear Nose and Throat surgical specialty in the nation.
"I am immensely proud of the nationally-recognized work that our faculty has provided, especially in a most unusual year across the country," said Thomas Pasic, MD, interim chair and associate professor of the Division of Otolaryngology-Head & Neck Surgery. "Year in and year out, we are finding ways to advance quality care in both research and practice for our students and our patients."
From traumatic and cancer reconstructive surgery to para-nasal sinus disease, the Division of Otolaryngology-Head & Neck Surgery provides comprehensive care in numerous specialties. In addition, the division hosts five independent basic science labs.
Alongside Wisconsin Surgery, several other departments at the School of Medicine and Public Health (SMPH) ranked among the best in the nation, including the Department of Gynecology and the Department of Orthopedics, both of which ranked within the top 15. SMPH as a whole was ranked the 33rd best medical school and the 39th most diverse medical school in the country. U.S. News & World Report also recently ranked the University of Wisconsin-Madison among the top colleges and universities in the country for 2022: 42nd in National Universities in a five-way tie, and 14th in Top Public Schools.
Alongside the U.S. News & World Report rankings, the University of Wisconsin was ranked 13th among public universities and 58th among public and private colleges from the Wall Street Journal/Times Higher Education. In addition, the University of Wisconsin was acknowledged as the highest ranking national public university and fourth overall by Washington Monthly's 2021 College Guide and Rankings.
To learn more about the University of Wisconsin's overall rankings, visit the lists for both U.S. News & World Report and Washington Monthly.
The Division of Otolaryngology  and Wisconsin Surgery's other residency programs are taking applications this September. Learn more about residency at Wisconsin Surgery here.