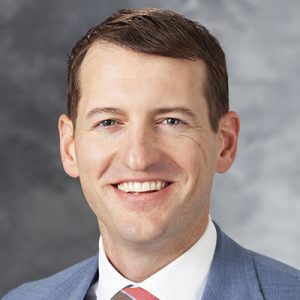 Luke Funk, MD, MPH, associate professor in the Wisconsin Department of Surgery, was recently elected Treasurer for the Association for Academic Surgery, a premier professional society focused on fostering research-based academic surgery.
The announcement coincided with the 2022 Academic Surgical Congress, which took place February 1-3 in Orlando, FL. The Association for Academic Surgery's new Treasurer was elected alongside other leadership positions, including President, President-Elect and Secretary.
Funk's appointment follows several years of involvement with the AAS, including a visiting professorship award in 2018, leading the AAS Early Career Development Courses in 2021 and 2022 (Virtual AAS Fall Courses in 2021), and serving as chair of both the Publications Committee and the Leadership Committee. He is also the recipient of the 2022 ASC 10×10 Career Development Traveling Fellowship, a joint AAS/SUS award supporting travel to another academic institution in the U.S. to foster networking with other surgeons and researchers.
"The AAS has been leading the way in academic surgery for the past 50-plus years, so it's fun to have the chance to participate as a leader," Funk said in reaction to being elected Treasurer. "I think the AAS is a fantastic organization because it offers trainees and early career faculty unique opportunities to present their research, learn, network, and develop leadership skills. UW-Madison has been well represented in the AAS over the years, and we hope to continue this into the future, particularly given that we have so many talented faculty members, trainees, researchers, and students doing innovative research."
Funk will take on AAS Treasurer duties alongside several other titles both inside and outside of Wisconsin Surgery. On campus, he is the Chief of General Surgery at William S. Middleton Veteran's Affairs and Director of Minimally Invasive Surgery Research. He is also an associate editor for the Annals of Surgery Open, an open-access and peer-reviewed international journal, and serves on the editorial boards of the Annals of Surgery and American Journal of Surgery.
Congratulations, Dr. Funk!