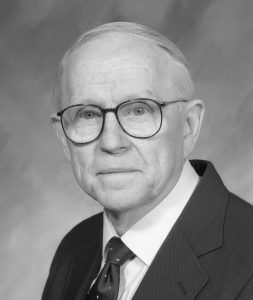 As the news spread last fall that John Pellett, MD, an emeritus professor of surgery at the University of Wisconsin School of Medicine and Public Health and esteemed general and thoracic surgeon at UW Health, had passed away, remembrances started flowing into the department he'd called his professional home for more than 40 years. The stories, tributes and plaudits soon made it clear that Dr. Pellett was not just a revered educator and an exacting surgeon, but an incredibly kind and caring human being whose legacy stretches across state lines and generations. As we near the 20-year anniversary of his retirement in April of 2002, we invite you to join us in celebrating our wonderful colleague and friend.
Born in Hamburg, New Jersey, Dr. Pellett served in the U.S. Navy and earned his medical degree from the University of Pennsylvania. In 1955, he moved to Madison, Wisconsin, where he completed a general surgery residency and thoracic surgery fellowship at University of Wisconsin Hospital and Clinics (now UW Health). He joined the Department of Surgery faculty in 1961 and continued his career here until his retirement in 2002.
During his time in our department, Dr. Pellett played a role in many "firsts": the first separation of conjoined twins, first lung transplant, first double-lung transplant, first heart-lung transplant, and first minimally invasive thoracic surgery. He was involved in research, stayed on top of the medical literature, and served in numerous state and national professional organizations.
One of Dr. Pellett's former colleagues and a lifelong friend, Louis Bernhardt, MD—a retired Madison cardiovascular surgeon who served as the chief surgery resident at UW Health while Dr. Pellett was on the faculty—shared how deeply Dr. Pellett cared about his patients. "He had an encyclopedic memory, recalling details of each patient, their disease, their relatives, their background and even where they got their hair cut. Sometimes evening rounds took a while, but everyone understood as long as John was teaching and caring."
Dr. Bernhardt continued, "John trained hundreds of UW Health surgical residents and fellows, and they cherished the time they spent with him. They received great medical training, as well as an education about deer hunting, farming, history, and life, to boot."
One such former student, John Mansour, MD, currently a surgical oncologist at the University of Texas Southwestern Medical Center, shared a story about Dr. Pellett that reveals his joyful, warm character. "I distinctly remember rounding on the thoracic surgery service one weekend morning when Dr. Pellett was on call. He was always so spry, so I was surprised to see that he was limping a little bit. In a moment away from the students and the team, I asked him if he had injured himself. He told me he had fallen out of a tree the day before. In retrospect, I am sure that it was a hunting-related injury, but when I asked him what he'd been doing in a tree he told me something I will never forget: 'Sometimes you just find yourself needing to be in a tree.'  We both laughed so hard at that. I was imagining this incredible, energetic, kind man in his mid-70s clambering up a tree. He was laughing at his own funny comment and the circumstance he found himself in. Really an unforgettable man. I feel so honored to call him one of my teachers."
Gregory Hartig, MD, a current head and neck surgeon in the Department of Surgery, remembers Dr. Pellett making him feel welcome from the start of his career here, and being a great mentor…not just in medicine. "About a year after moving to Madison, my wife and I moved out to rural Cross Plains," Dr. Hartig wrote. "Our home had facilities for stock and I asked John—our resident farming expert—what animals he would suggest for beginners. He introduced me to Art Pope, who was a world-renowned sheep vet at UW and owned land west of Madison that is now Pope Farm Park. Art sold my wife and me a small flock of sheep that first year, and our flock continues to this day."
Dr. Pellett's agricultural exploits were well known in the department. Kevin Bethke, MD, a former Wisconsin Surgery resident and current breast surgeon at Northwestern's Feinberg School of Medicine, wrote, "I remember Jim McGary, one of my intern year chief residents (1983), saying at one of the Department events that Dr. Pellett was 'outstanding in his field' because at that time he operated by day and farmed at night!" Dr. Bethke continued, "Dr. Pellett was a true gentleman and a scholar. I only hope that my trainees consider me half as kind and caring as he was to all those around him."
And in a simple tribute to his influence, James Maloney, MD, current professor in our department and thoracic surgeon at Middleton Memorial VA in Madison, said, "After one week of thoracic surgery with Dr. Pellet when I was an intern in 1995, I came home and told my wife (then girlfriend), 'this is what I want to do for a living.'"
Jeff Grossman, MD, a retired pulmonologist and former interim CEO of UW Health and a long-time friend of Dr. Pellett's, summarized well what he meant to our department: "I had the great pleasure of knowing John Pellett from 1975 until near his death. In the pantheon of great physicians who have walked the halls of UW Health, there could be ample controversy about who was the most brilliant, the best diagnostician, the most elegant technician, the consummate clinician, etc. I'm not sure where John Pellett would stand in any of these competitions, but I do know that he was unsurpassed when it came to embodying all the attributes we speak of and aspire to when it comes to being a good human being. My judgment about this goes well beyond the realm of medicine – I never met a better man."
Dr. Pellett passed away on September 24, 2021, at the age of 94. He lived in Middleton, Wisconsin, and Sanibel, Florida.
To honor Dr. Pellett's legacy, the Department of Surgery has established a fund to promote the humanistic delivery of surgical care by providing support for wellness initiatives within the Department of Surgery and enhancing our commitment to delivering compassionate care to our patients and community. To make a gift to the fund, email Senior Director of Development Kristen Wolfe at kristen.wolfe@supportuw.org, or visit the University of Wisconsin Foundation giving site and type "John R. Pellett, MD Fund for Humanism in the Delivery of Surgical Care" in the Fund Name field.
Do you have a story or thought to share about Dr. Pellett? Email it to mella@surgery.wisc.edu (Communications Director Kelly Mella) and we'll add yours to the many additional remembrances we've received, with plans to share them at an upcoming event.