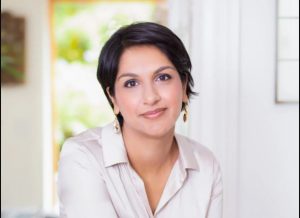 Earlier this month, world-renowned journalist and author Angela Saini spoke with the University of Wisconsin Department of Surgery in the department's first-ever Grand Rounds focused on Diversity, Equity, and Inclusion (DEI).
Saini, who was previously a guest on Wisconsin Surgery's podcast The Sett, spoke virtually with three separate groups in the department on March 2 via Zoom. The first and largest was a lecture attended by more than 180 people, in which she presented her talk "Race and Health: Myths Made Real."
The lecture featured a historical look at the intersection of race and science, particularly in the medical field. Saini referenced people and organizations both past and present, including Mankind Quarterly, a journal founded in 1960 by eugenicists and segregationists and still published today, and a 2020 article in a prominent psychological science journal that was retracted for its racist conclusion based on poor-quality data that the authors themselves admitted was politically motivated. In addition, she gave examples of race and gender being used as proxy variables for poor health outcomes caused by other factors, including systemic social inequities and even body size.
"I hope that after today, people can question more broadly why we use categories in science and medicine," Saini said. "In medicine, we treat individuals, not groups. No person is ever easily categorized, so what repercussions do categories have?"
Saini also spoke in smaller discussions with Wisconsin Surgery residents and the department's Anti-Racist Learning Group. Both groups took on a freeform Q&A discussion format, covering issues ranging from racial categories in different countries to reluctance in the scientific community to issue self-corrections.
"My biggest takeaway from talking with Angela Saini is to make sure I define more clearly what race is in my manuscripts," said resident Madhuri Nishtala, MD, who co-led the resident discussion with resident Vivian Hsiao, MD. "Several residents had personal stories in which race categorization has inappropriately guided medical care or prevented medical accessibility."
Saini was brought on as a speaker by the department's Diversity, Equity, and Inclusion Committee, which includes a Grand Rounds subcommittee led by Elise Lawson, MD. The general lecture opened with DEI Committee leader Corrine Voils, PhD, who spoke about the importance of a DEI-specific Grand Rounds as part of the department's ongoing efforts to foster an inclusive and equitable community. Read more about those efforts on the department's DEI web page.