Recently, three University of Wisconsin Department of Surgery faculty received research grants from the National Institutes of Health. Each will be moving surgery forward in their individual specialties; read on to learn more about their projects.
Margaret "Gretchen" Schwarze, MD, MPP: Scenario Planning for Older Adults
Dr. Gretchen Schwarze of our Division of Vascular Surgery was awarded a five-year, $3.6 million research grant from the National Institute on Aging. Her study will focus on improving communication among healthcare providers, older adult patients, and their families when the patient is being treated for a serious traumatic injury.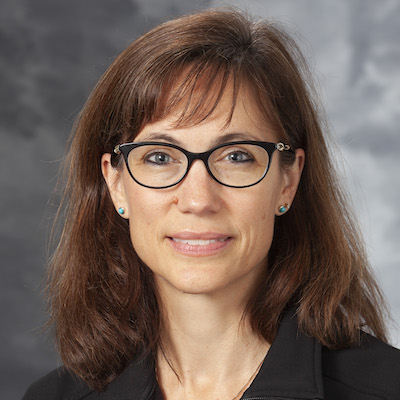 While treatment options for traumatic injuries can include surgery and hospital stays in the Intensive Care Unit (ICU), many older adults facing end-of-life care may prefer to avoid either scenario. Dr. Schwarze and her research team previously developed Best Case/Worst Case-ICU, one of many tools in Dr. Schwarze's ongoing research project The Patient Preferences Project, which uses scenario planning and graphic aids to help clinicians better communicate with patients and their families. This newly funded study will compare the Best Case/Worst Case-ICU tool's effectiveness to standard-of-care approaches at eight trauma centers across the U.S., evaluating outcomes for 4,500 older adult (age 50+) patients who have been admitted to the ICU for three or more days as the result of a serious injury.
Dr. Schwarze and her team will assess the quality of communication from the perspective of the family, clinician moral distress and burn out, and the length of the patient's stay in the ICU. Ultimately, the results of this study may improve the care that older adults receive in the trauma ICU by transforming the way that clinicians communicate with patients and their families about treatment and prognosis, and ensuring that the treatments patients receive are consistent with their overall health goals.
Angela Ingraham, MD, MS: Rethinking Patient Transfer Intervention
Dr. Angela Ingraham in our Division of Acute Care and Regional General Surgery was awarded a two-year, $311,000 research grant from the National Institute on Aging under their Grants for Early Medical/Surgical Specialists' Transition to Aging Research (GEMSSTAR) program. Her study will focus on improving communication when transferring older adult (age 65+) patients between hospitals for non-trauma-related surgical diagnoses.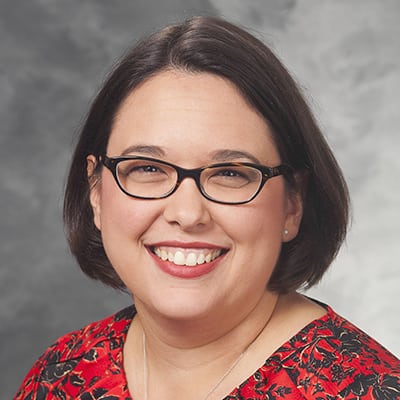 Older adult patients tend to face worse outcomes for many reasons, one of which may be poor communication between the referring hospital and the accepting hospital. Dr. Ingraham's research will adapt and test an existing patient transfer intervention with the goal of improving outcomes for older adult patients who are transferred to a new hospital to receive care for emergency general surgery diagnoses.
To do this, Dr. Ingraham will collaborate with numerous personnel at both referring and accepting hospitals, who will provide input on how to best modify the existing patient transfer intervention in an emergency general surgery setting. With this data, Dr. Ingraham will create a standardized toolkit that will be piloted at UW Health for one year, evaluating both how the toolkit is used alongside outcomes in 100 older adult patients that fall under the toolkit's parameters. The results of this pilot study will be used to refine the intervention and toolkit as needed and will inform a larger study to test the intervention at additional hospitals.
Matthew Brown, PhD: Cell-Based Heart Attack Therapy
Dr. Matthew Brown in our Division of Transplantation was awarded a one-year, $382,000 research grant from the National Heart, Lung, and Blood Institute. Dr. Brown's lab focuses on developing and testing cell-based therapies that can improve patient outcomes after organ transplantation by preventing rejection of the transplanted organ.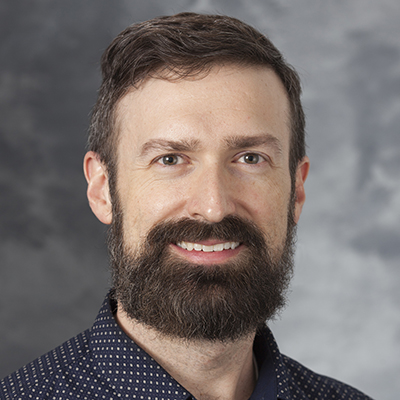 Pluripotent stem cells (PSCs) are a promising type of cell that have the ability to divide and develop into any of the different types of cells in our body, including cells that make up our organs and muscles. In theory, PSCs can be gene-edited in a way that would allow the cells to be recognized as "self" by the patient's immune system, which would prevent the immune system from rejecting a PSC therapy and decrease the need for lifelong medications that suppress the immune system.
Dr. Brown's newly funded study will focus on PSC-based treatments for heart attacks. Heart attacks cause cells in the heart muscle to die, and PSC-based therapies can prompt new heart cells to develop to reduce the damage. Dr. Brown's lab will use gene editing to develop a new PSC-based therapy for heart attacks that does not activate the immune system, and will test this therapy in special "humanized" mice that receive these transplanted cells. The results of this study will support future studies of how PSCs can be altered to prevent the rejection of transplanted cells and organs in critically ill patients.
Congratulations to Drs. Schwarze, Ingraham, and Brown on their research awards! We are thrilled to see what happens next in each of these exciting projects.