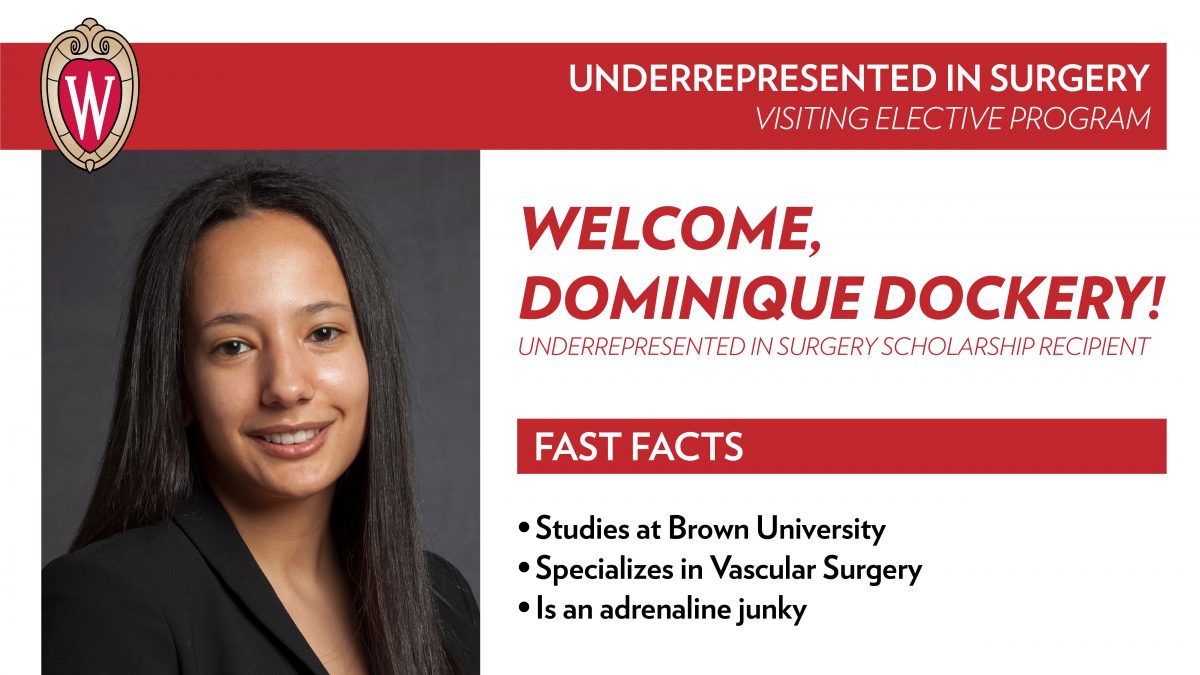 Dominique Dockery knew she wanted to be a surgeon since her first year on campus as an undergrad, but during her first year of medical school at Brown University, she scrubbed in with her mentor, Dr. Carla Moreira, in a few open operations. That experience ignited in her an unwavering interest in vascular surgery.
Now, Dockery is poised to graduate from Brown University's Alpert Medical School this May, and every case since that first day has only continued to affirm her passion. She immersed herself even deeper into that passion with the University of Wisconsin Department of Surgery's URiM scholarship program this summer, where she was the Division of Vascular Surgery's first participant as the program rolls out its second year. One of the cases that fueled her passion involved treating an overnight ruptured abdominal aortic aneurysm, where she said she enjoyed the inclusivity of the team. "Despite the unplanned and high-acuity nature of the case, I got hands-on and worked with the resident and attending, and it truly felt like I was part of the team," she said.
While Dockery describes that first case with Dr. Moreira years ago as her "eureka moment," she cites the need for equitable healthcare, particularly on a global scale, in vascular surgery as one of her biggest areas of interest as well.
"There are a lot of innovative things going on in vascular surgery, but there's also a lot to be done in the US and abroad in underserved populations with health disparities and access to care, which has kept me interested and will push me to become a better surgeon and researcher in the future," Dockery said.
Earlier this summer, she did research in Rwanda, and plans to eventually go back to the country in some form for future iterations of her project. In addition, Dockery has studied abroad in India, South Africa, and Brazil. Her interest in global surgery led her to Wisconsin Surgery's Girma Tefera, MD, and his own global surgery work, at a conference before meeting once again in Madison.
While Dockery's time at Wisconsin Surgery has come to an end, her professional drive and desire to make a difference have taken her beyond Madison to rotations in Seattle and New Orleans. After that, her sights are set on residency and the Match 2023 season, during which she aims to find an integrated vascular surgery program that combines her global surgery and vascular surgery interests.