When 20-year-old Alyssa Liebenow started experiencing fatigue, hot flashes, and unusual aches and pains, she and her mom, Joelle, knew something was wrong. Little did they know that it would start a five-year journey that would ultimately lead both mother and daughter to undergo surgery for the same health condition: hyperparathyroidism.
Located in our neck next to the thyroid gland, the parathyroid glands release a hormone that helps our bodies regulate certain minerals in our bloodstream. But when too much of this hormone is released into the body, it can cause blood calcium levels to rise and phosphorous levels to drop, leading to a variety of symptoms. These can include bone and joint pain, fatigue and muscle weakness, memory and concentration issues, depression, loss of appetite, kidney stones, and constipation, among others.
A hallmark of the condition, Alyssa's elevated blood calcium levels had been overlooked by other doctors. She finally saw a UW Health endocrinologist who suspected hyperparathyroidism and recommended a referral to an endocrine surgeon. After researching the disease, Alyssa asked that the referral be made to the Chair of the Division of Endocrine Surgery, Rebecca Sippel, MD, who came highly recommended to Alyssa by members of an online support group that she had joined.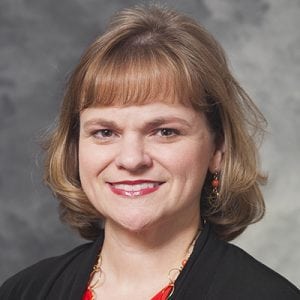 Dr. Sippel is an endocrine surgeon who specializes in the surgical treatment of the thyroid, parathyroid, and adrenal glands. An expert in parathyroid surgery, she offers a minimally invasive approach (meaning small incisions that require only a few stitches) to the treatment of hyperparathyroidism. She also actively conducts research to better understand how endocrine tumors develop, how we can improve their treatment, and how we can improve patient care and outcomes.
When Dr. Sippel saw Alyssa's blood calcium levels at their first appointment in July 2021, she agreed with the endocrinologist's suspicion that hyperparathyroidism was the cause. Additional tests confirmed the diagnosis, and within one month Alyssa was in Dr. Sippel's operating room.
"For some patients with hyperparathyroidism, making the diagnosis isn't as clear-cut, and we often see patients suffering from symptoms for years prior to establishing an appropriate diagnosis and being offered treatment," said Dr. Sippel. "One of the goals of our team is to raise awareness about the condition and encourage the referral of patients for an evaluation by our team of experts."
The Liebenows' journey didn't end there. Joelle had also been experiencing symptoms of the disease. Suffering from constant fatigue, memory loss, deep bone pain, hair loss, and weak, split nails, Joelle had talked to her healthcare providers and been told "those symptoms just come with age." After diagnosing Alyssa and hearing about Joelle's symptoms, however, Dr. Sippel also checked Joelle's calcium levels—and sure enough, they were high as well.
"The symptoms of hyperparathyroidism are often non-specific, so symptoms are all too often written off and not investigated further. However the symptoms of this disease can have a real negative impact on the quality of life of patients," said Dr. Sippel.
In November 2021, just three months after Alyssa's surgery, Dr. Sippel performed surgery on Joelle to treat enlarged parathyroid glands that were causing her hyperparathyroidism. Joelle was cured by her surgery and is now significantly recovered. Alyssa has a more complex form of the disease and recently had a second surgery that identified additional enlarged parathyroid glands that were continuing to cause symptoms. Dr. Sippel is hopeful that this second procedure will lead to a complete recovery for Alyssa's hyperparathyroidism.
For her part, Alyssa is grateful to Dr. Sippel for staying with her as they continue her treatment: "A lot of people in my support group have said that their surgeons don't stick with them. But Dr. Sippel has been sticking with me even though I'm a really complicated case. She has not given up on me, and she has never once made me feel like I have no hope, which is amazing."
Both Alyssa and Joelle credit Dr. Sippel's entire team for the remarkable care that they have received as UW Health patients. "All of the people in Dr. Sippel's office – from her PA Megan Yarrington to the nurses to the receptionists – have wonderful training, and they are the team that I think others should aspire to in terms of their standard of care," said Joelle. "The kind of care they have offered has been unequaled. They have been phenomenal throughout the entire process."
A dynamic mother-daughter duo who have together battled the same disease and who overcame the same adversity in getting their diagnoses, Joelle and Alyssa are determined to raise awareness about hyperparathyroidism. They would like other healthcare providers to understand the importance of checking calcium levels in patients and understanding what a high level could mean.
They also want patients to know that this disease can happen in younger people, that there are specialists available to help, and that with treatment you can return to your normal self. Alyssa has this advice for patients who are struggling with their symptoms and have not received an accurate diagnosis: "Don't give up— if you aren't getting what you need from a doctor, keep pushing forward. No matter how complicated your case is, there is hope. Don't ever think you're alone."
Joelle teared up when describing how Dr. Sippel has turned things around for both her and Alyssa. "I wasn't getting help from anywhere else, I wasn't treated as well anywhere else. What Dr. Sippel has done for me and what she is doing for my daughter means the world to me. It's been such a long process for Alyssa in particular, and I want her to get her life back. I would love to see her do the things that a normal 25-year-old does. My hopes are more for her than myself. I can't express the depths of the gratitude that I have for Dr. Sippel!"
To learn more about endocrine surgery treatment at UW Health, visit https://www.uwhealth.org/treatments/endocrine-surgery.
Interested in helping move the field of endocrine surgery forward? Consider giving to the Endocrine Professorship Fund. This fund will provide support for research costs, clinical trials, education and more to advance research and patient care in endocrine surgery. To make a gift, contact Senior Director of Development Kristen Wolfe at kristen.wolfe@supportuw.org, or visit the University of Wisconsin Foundation giving site .