Many in the Madison are are aware that in 2020, UW Hospitals opened an expanded UW Burn and Wound Center, which provides comprehensive burn care to patients from the time of injury through rehabilitation. The care team at the center includes occupational, physical, and respiratory therapists, social workers, health psychologists, child life specialists, dieticians, nurses, physicians and researchers, among others— all dedicated to providing specialized care and treatment and investigating ways to improve treatment and outcomes for burn patients. While there are other burn centers in Wisconsin, the UW Burn and Wound Center is the first to carry a verification from the American Burn Association, which is associated with the American College of Surgeons. It is also the state's only burn center that cares for both adults and children. Indeed, about a third of the center's 450 patients each year are children.
What may be less known about the UW Burn and Wound Center is that some of the key people driving its support are house restoration professionals, firefighters, and the generous donors who partner with them. Paul Davis Restoration of South Central Wisconsin, a company that performs disaster restoration from damage caused by fire, water, mold, and other causes, has had a decades-long partnership with the Professional Fire Fighters of Wisconsin Charitable Foundation that generates extensive funds for the UW Burn Center. These partners in restoration, firefighting, and healthcare each have a unique role in restoration and recovery from fire, and their collaboration makes true healing from burn trauma possible.
Before Restoration: A Terrible Fire
Those who work in the home fire recovery process see up-close the devastation experienced by families due to burn injuries. But the story of Paul Davis of South Central Wisconsin founder Jim Hirsch's encounter with burn survivors and his commitment to their support predates his work in home restoration. In 1988, Hirsch was working for the Carpenter's Union in Milwaukee. At Christmas-time, there was a front-page newspaper story about a house fire close to the union hall. A drywaller from the carpenters' union named Kirsch lost two sons in the fire. People mistook the name "Hirsch" for "Kirsch" and repeatedly stopped Jim in the union hall to express condolences about his loss. The experience hit close to home: despite not knowing Kirsch at the time, Jim also had two young children at home. He began raising money to send to the mother and surviving kids so they could be with her family. Later, Hirsch would begin his restoration career with Milwaukee-based Sid Grinker, the restoration company that restored the Kirsch family house.
Hirsch was and remains affected by this tragedy. He says that witnessing the effects of fire on survivors filled and fueled his lifelong mission to be of service to others. In the years that followed the fire, he gained greater awareness around fires and burn injury and became involved with the Alliance for Fire Safety. Nine years after the fire, when he started his own restoration company, burn-related charities were the obvious causes for him to support. And he knew that real recovery always happens with others. Jim's son Jesse Laz-Hirsch, Chief Communications Officer for the Cottage Grove office, describes his family's belief that business and philanthropy are united by a common cause: "My parents always viewed the work that Professional Fire Fighters of Wisconsin Charitable Foundation and the UW Burn and Wound Center did—survivor treatment and support—as a vital part of the restoration process."
Closing the Loop of Recovery
 Jim's goal is to close what they call "the loop" of the burn recovery circle that can be depicted like this: house fire → first responders → hospitals for burn injury treatment → burn camp. As a first step, Jim's business built relationships with fire departments; when the departments need help boarding up homes post-fire, they call in Paul Davis and the company provides this service for free, without obligation that the property owner contract with them for restoration services.
Beyond actual house restoration work, Paul Davis Restoration regards its role as securing funding that then completes the healing circle by supporting burn treatment and recovery. Almost 20 years ago, Paul Davis created their golf classic to benefit fire safety education, burn survivor programs, and burn research. Scott Mowatt, Business Development Manager at the company, says that Jim and his wife, longtime Paul Davis Chief Administrative Officer Laurie Laz, were the driving force that made the golf outing into the sizable fundraiser that it is. Their first benefit produced just $5,000. This year will mark the 19th year of hosting the Paul Davis Invitational and it will have raised a net of over $700,000.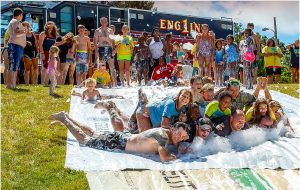 The Firefighters' Foundation, for its part, spearheads numerous projects that play key parts in the loop of burn recovery. Perhaps one of its most loved initiatives is the Summer Camp for Burn Injured Youth, which has been running for 28 years. "Burn Camp" is a free overnight summer camp for children with life-changing burn injuries. The camp aims to provide space where kids benefit from a lifelong support system, continue to heal from the emotional trauma of their burns, and simply have fun. The Hirsches have been highly involved in the camp from its inception, sitting on its board and donating their time. (See a slideshow from a recent Burn Camp.)
While the funds raised through the Paul Davis Restoration Golf Classic initially benefitted the burn camp, as the golf event grew bigger, the company and foundation began working with and donating proceeds to the UW Burn and Wound Center. In 2020, Paul Davis Restoration generously committed $250,000 over a 5-year span to establish an endowed professorship to focus on research, education, patient care, and any other initiatives that advance the mission of the UW Health Burn and Wound Center. The goal is to fully endow the Paul Davis Community Professorship through $1,000,000 raised.
Mowatt says that Paul Davis Restoration's business model is one unlike any he has seen: "Their reason to be in business is to give back to the community." He has had the joy of growing PDR's giving, leading the expansion of the company's philanthropic work to include over 100 charity events. Now, the company's goal is to enlarge the donor base they call on for their fundraisers beyond the "mom and pop" businesses they've traditionally had as partners to include larger organizations with greater capacity to do the vital work of helping burn survivors.
Those who respond to the call will become part of the powerful partnership between Paul Davis Restoration, the Professional Fire Fighters of Wisconsin Charitable Foundation, and the UW Burn and Wound Center. Through this unique collaboration, we see uniformed firefighters, EMTs, restoration professionals, hospital health professionals, and burn survivors united by a common mission of restoration and recovery from the trauma of burns.
To discuss how you can support the UW Burn and Would Center, contact 
Kristen Wolfe
Senior Director of Development
UW Department of Surgery
Wisconsin Foundation and Alumni Association
Cell: (608) 260-5386 • Email: Kristen.Wolfe@supportuw.org
You can also make a gift online to the Burn Team Advancement Fund >>