Every year, the Department of Surgery honors our talented alumni by presenting one special alumnus with the Forward Award. This prestigious award acknowledges outstanding alumni contributions by current or former residents, faculty, and fellows of the University of Wisconsin Department of Surgery.
We're proud to share that the 2022 Forward Award winner is Dr. Gretchen Schwarze.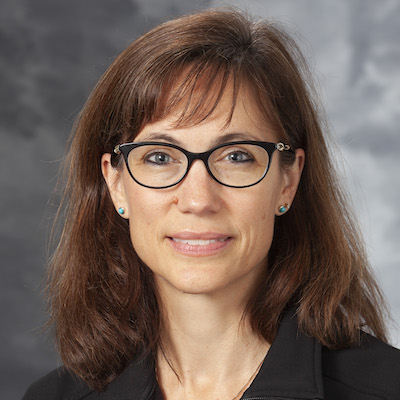 Dr. Schwarze is an associate professor and the endowed Morgridge Professor in Vascular Surgery. Having first joined the department in 2005, Dr. Schwarze's work in vascular surgery has impacted patients, residents, fellows, and staff alike with her focus on bioethics.
As a researcher, Dr. Schwarze is best known for her expansive work in The Patient Preferences Project, helping older patients who are considering major surgery make decisions that are in line with their values, goals and preferences.
Outside of her work in the department, Dr. Schwarze has served in numerous leadership roles, including the Ethics Committee of the American College of Surgeons, the Board of Directors of the Surgical Outcomes Club, and Chair of the Ethics Committee of the Society of University Surgeons.
In her 17 years with the department, Dr. Schwarze has embodied the very best of the Wisconsin Idea as a researcher, provider, and educator.
"I am not nominating Dr. Schwarze because she is brilliant, but because she imparts her brilliance on others without making them feel less so. I am not nominating her for her technical surgical skill, but because she treats every patient like they are the most important people," said Dr. Schwarze's anonymous nominator.
The Forward Award is presented each year at the Layton Rikkers Surgical Society alumni gathering during the American College of Surgeons Clinical Conference.