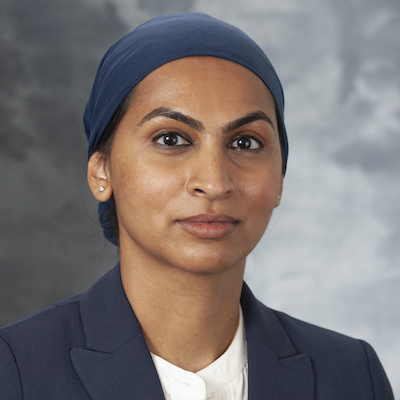 Mehreen Kisat, MD, assistant professor in the Division of Acute Care and Regional General Surgery, recently received a five-year, $950,000 career development grant from the National Institute of General Medical Sciences to support her work on improving outcomes for trauma patients.
Dr. Kisat's research focuses on developing methods to better identify and treat sepsis, a life-threatening complication caused by the body's extreme response to infection, in trauma patients. Nearly one out of every four trauma patients who are admitted to the Intensive Care Unit develop sepsis, and of those who do, more than one out of every five will not survive.
Patient outcomes can be improved by quick treatment with the right antibiotic for the type of bacterial infection present. However, diagnosing sepsis in trauma patients can be tricky because the body's response to sepsis looks similar to the body's response to the inflammation that can be caused by a traumatic injury. To be safe, trauma teams will often treat the patient with broad-spectrum antibiotics, but this approach may contribute to the global issue of antibiotic resistance if the patient doesn't actually have an infection or if they have an infection that requires treatment with a different antibiotic.
To address this problem, Dr. Kisat will be developing and evaluating a new type of blood test to rapidly identify bacteria in trauma patients. Her goal is to determine if this test will improve the ability of trauma teams to detect sepsis in patients who have had a traumatic injury and help them identify the type of bacteria that is causing sepsis.
"I'm thrilled to continue my work on improving diagnostic approaches for sepsis in with this new award," Dr. Kisat said. "When trauma patients present with life-threatening injuries, our first priority is to stabilize them. Once we achieve that, we often face the dilemma of differentiating continued inflammation from infection in our patients. I'm hopeful that this research will help us address this challenge."
Ultimately, the results of this study may improve outcomes in trauma patients by allowing the trauma team to treat the patient more quickly with the right antibiotics.
Kudos on your research award, Dr. Kisat!