Nathan Welham, PhD, professor in the Division of Otolaryngology-Head & Neck Surgery, was recently awarded a five-year, $2.7 million research grant from the National Institute on Deafness and Other Communication Disorders.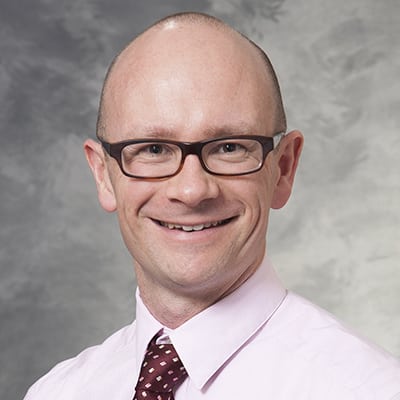 The grant is a competitive renewal of a long-running, NIDCD-funded project that was first started by former Department of Surgery faculty member Professor Emeritus Diane Bless in 2000. The research focuses on scarring that can negatively impact vocal folds after an injury. This scarring can cause voice problems that not only affect communication but also ultimately impact a patient's personal relationships, work, and quality of life.
"We're thrilled to be able to continue the research legacy of Dr. Bless and further our translational efforts to help patients with scar-related voice loss," Dr. Welham said. "With this new support, we aim to expand our focus to encompass both scar prevention and scar treatment, as well as move the work from the laboratory towards the clinic and operating room."
In their prior funding cycle, Dr. Welham and his team found that a certain type of cell that travels to the site of a vocal fold injury may play an important role in wound healing and recovery. In this new study, they plan to determine the migration behavior and role of these cells in both injured and healthy vocal fold tissue, using a mouse model of vocal fold injury developed by the team. They will also evaluate the effects of enhancing and interrupting the function of these cells on vocal fold healing. Ultimately, this work may help researchers develop new treatments that can prevent or improve post-injury scarring in the vocal folds.