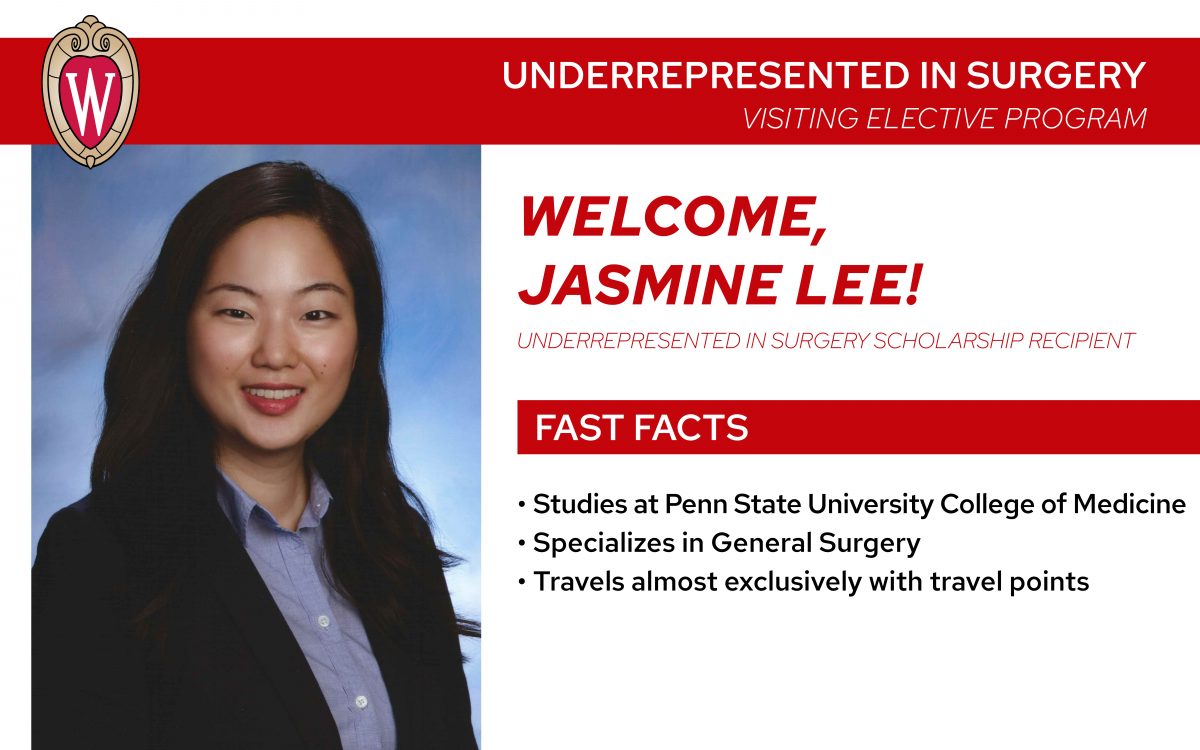 The School of Medicine and Public Health and Department of Surgery is committed to being a diverse, equitable, inclusive, and anti-racist learning environment and workplace. The Underrepresented in Medicine (URiM) Visiting Student Scholarship Program, sponsored by the Department of Surgery, supports qualified 4th year medical students from underrepresented backgrounds in medicine in developing their clinical skills, abilities, and potential through a visiting rotation, mentorship, and networking opportunities.
After reflecting on her clerkship rotations, Jasmine Lee realized that she wanted to be a surgeon for the sickest patients in the hospital. The more she learned about herself and surgery, the more she was drawn to general and acute care surgery.
As a student at Penn State College of Medicine, Lee worked with a patient who experienced a complex mix of social determinants of health. While connecting him with community resources to help address his barriers to healthcare, she learned that he was turned away from getting surgery to treat a condition that was affecting many aspects of his health and daily life.
"This experience taught me the impact that a "simple" surgery can have on a person and the power of rapport and conversation," Lee said.
Lee was interested in the URiM program because of UW-Madison's commitment to using diversity, equity, and inclusion to address health disparities and to provide care for underserved populations. At the Student National Medical Association Annual Medical Education Conference earlier this year, she saw UW-Madison faculty and residents demonstrate these commitments.
"I'm looking forward to learning from the education-focused faculty of UW-Madison," Lee said.
This rotation will be a chance for Lee to meet people with similar interests. She is eager to interact with medical students and residents who are interested in community-centered and patient-centered care in general surgery. Also, she is excited to meet surgeon scientists with whom she shares research interests.
For years, Lee has seen Madison ranked as one of the best places to live. "I am so grateful to visit such an excellent program and livable city," Lee said. "I cannot wait to explore the many opportunities that Madison has to offer."
Once she finishes her general surgery residency, Lee plans to pursue fellowships in surgical critical care and in palliative care. She hopes to be a resourceful and adaptable surgeon who primarily cares for patients from under resourced or marginalized backgrounds.