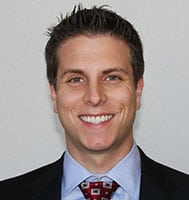 Congratulations to general surgery resident Dr. Christopher Zimmermann who was selected for the 2018-2019 American College of Surgeons-MacLean Center Surgical Ethics Fellowship at the University of Chicago.
This one year, part-time fellowship prepares surgeons for careers that combine clinical surgery with scholarly studies in surgical ethics.
"Difficult situations–where ethicists routinely find themselves–are just so interesting," Dr. Zimmermann said. "They interest me because you really have to try to understand the situation from every person's perspective, and then see if they make sense with our ethical principles. I think to be in that situation you have to see the humanity in the decisions we make, decisions which we often boil down to cold hard choices, and I love that."
Along with classes, lectures, and case conferences, Dr. Zimmermann will conduct independent research projects under the mentorship of Dr. Gretchen Schwarze, one of the people who inspired him to pursue this fellowship based on her own experience studying medical ethics at MacLean Center and her research in surgical ethics.
Congratulations on this honor, Dr. Zimmermann!