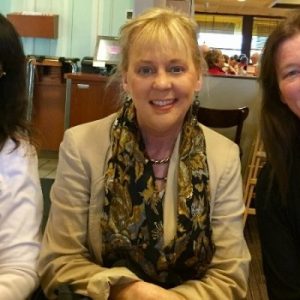 Martha Manning grew up making art. Her mother always wrapped gifts in butcher paper so Martha and her three siblings could decorate the paper. And when her parents purchased a new refrigerator, Martha's mom bought new "squeakers" (markers) so they could make art on that as well since it was washable. Therefore, it should come as no surprise that she went on to graduate from Southern Methodist University in Dallas where she studied printmaking and art history. That was the spring of 1980, and a mere 18 months later this talented, young woman had what would be both her first and her last ride on a private plane.
It was August 7, 1981 and severe thunderstorms were scattered across the Rockford area. Martha had reservations about the small, chartered plane, but she was assured she would love it. As they flew across Lake Okoboji, on their final approach, she watched in horror as the left engine went out, then the right. They could see clearly that they were headed straight for a tree line. They cleared it by a hair and then the plane's left wing tip touched the ground putting the plane into three flat tailspins going 90 miles an hour. A chain link fence of the community tennis courts caught the plane and completely surrounded it. That chain link fencing stopped the plane from crossing a busy two lane highway.
The next thing Martha saw was that both wings of the plane were on fire. With the main airplane hatch jammed shut, Martha found a small window in the back of the plane. She was halfway out when suddenly the fire burst up the side of the plane right where Martha was crawling out. She instinctively threw her hands over her face for protection, but one hand fell away leaving one side of her face seriously burned and the other hand remained covering the other side of the face which is why her left hand and arm were so severely burned.
Despite her significant injuries and the trauma she endured, the heroic actions of everyday people continues to be very moving to her. Following the accident, Martha spent three months at Mayo Clinic in Rochester and that was just the beginning. She not only missed her 20's, but she wasn't able to truly comprehend what was taken from her until her own children were in their 20's. Her recovery was physically grueling and emotionally exhausting, but it did not break her spirit. Martha says that, "My life is richer and fuller because of that plane crash. There are times I look back and can't believe I lived through all that." While she was treated and cared for elsewhere, she has a deep passion for the work being done at UW Health.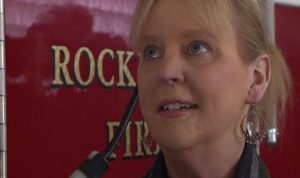 It was a mole on her leg, which she had been monitoring for years, that had changed drastically and quickly which led her to UW Health. Unfortunately, she was diagnosed with a melanoma and there was no time to be wasted. She was brought back within days of her initial appointment to discuss surgery and felt an immediate connection when she met Dr. Sharon Weber. For the second time in her life, she received the highest level of care and was given a renewed lease on life.
Inspired by her many experiences, Martha has always believed in getting involved and giving back. She's educated middle school children in public and private schools in Rockford about the dangers of playing with fire. In addition to her generous donations, Martha joined the UW Health Burn Team Advancement in 2010 to serve others in a variety of ways.
"I love that Dr. Angela Gibson is doing all her work. I give because I believe so deeply in anything that advances whatever can be done for future burn survivors. I have made lifelong friends in my associations with UW, well, not just lifelong friends, but really fantastic friendships. I had so many people who cared for me that it makes it easy to turn around and give back. There's so much joy in doing for others."
She took a tragedy and turned her life and her legacy into a work of art. Martha's hopes for the future: to love and be loved, to help others after being helped, to encourage others after being encouraged. "I'm so thankful that UW is there for both my husband and me."
---
Hear about Dr. Gibson's burn treatment research