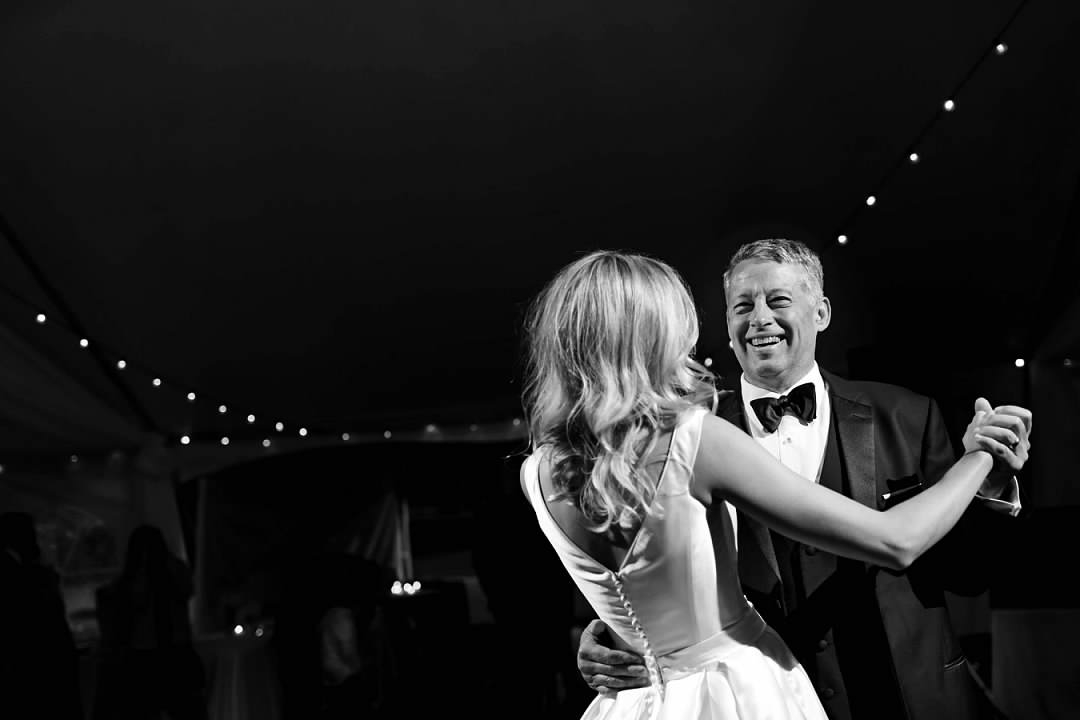 Mike Oglesby dances with his daughter Shannon at her wedding. 
Though it's rare to find an Iowa Hawkeye who will show love for the Wisconsin Badgers, the "Faj Squad" is ready to give up the black and gold for a little Badger red and white when it comes to supporting pancreatic cancer research.
"Faj" is what Brittany Oglesby and Shannon Huber affectionately called their dad, Mike Oglesby. Mike was diagnosed with pancreatic cancer on November 6, 2015 and was given 16 months to live. He sought treatment in Iowa and lived long enough to see Shannon get married, but the cancer was far more aggressive than predicted.
In just two months, Mike was gone. He was 52 years old.
Mike's siblings, Diane Rambousek and Thomas Oglesby, channeled their grief by finding a way to honor their brother's memory. "It was such a whirlwind, I didn't even know what to do," Diane says. "My grief took over, and I said — 'we have to do something.' We knew Mike wouldn't want us just sitting around. We had to prevent this from happening to someone else."
Serving as her brother's patient advocate opened her eyes to the realities of pancreatic cancer. So "doing something" meant raising awareness and raising funds for research.
Within weeks of Mike's death, his daughters came up with the idea for the Faj Squad 5K, and three and half months later, the family launched the Michael W. Oglesby Foundation. The first year of the Faj Squad 5K had 350 participants and 50 virtual walkers, with the momentum continuing each year.
It was important to the family that the money stay local, but when they learned that there were pancreatic cancer specialists just three hours away at the UW Carbone Cancer Center, they were willing to cross state lines.
"We felt that the people at UW were as passionate as we are about the pancreas," says Diane. "We need to find a screening tool and we need to find better treatments, and Madison has the team of doctors who work with pancreatic cancer patients and do research. And even though the survival rates stink, maybe this place can give you more time."
Funds raised from the Faj Squad 5K support surgeon-scientists like Sean Ronnekleiv-Kelly, MD, whose research studies how environmental sensor proteins affect pancreatic cancer. He is particularly interested in circadian clock proteins which regulate circadian rhythms – what we might call our "internal clock."
Dr. Ronnekleiv-Kelly explores how circadian disruptions, such as irregular sleep patterns or irregular food intake, affect pancreatic cancer progression in a mouse model.
"Our natural circadian cycle has been quite disrupted,  particularly among groups such as night shift workers," he says. "Since circadian rhythms control up to 40% of gene expression in various organs, circadian disruption can significantly contribute to human pathology." For instance, there is substantial evidence associating circadian disruption with obesity and diabetes, which are pancreatic cancer risk factors.
"Less than 10% of patients are alive at 5 years from diagnosis, and it's soul-crushing to tell someone who has gone through treatment that their prognosis isn't good," says Dr. Ronnekleiv-Kelly. "We have to do better for people like Mike. I am extremely grateful to the Oglesby family and the Faj Squad for their generous support and for their passion to help combat this devastating disease."
On football Saturdays, clear lines will be drawn, but when it comes to pancreatic cancer research, Diane says, "Even though we're Hawkeyes, we've become very attached to the Badgers."
---
Learn how you can support research in the Department of Surgery >>