In a virtual ceremony on December 7, pediatric surgical oncologis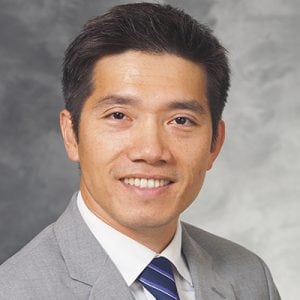 t Dr. Hau Le received the UW Health Rising Star Clinical Practice Award for 2020.
Dr. Le's accomplishment is part of the annual Physician Excellence Awards, for which UW Health physicians are nominated by their peers. The Rising Star Clinical Practice Award honors outstanding clinicians who have, in only 2-5 years at UW Health, demonstrated exceptional and measurable contributions to clinical practice.
According to Dr. Le's nomination, through his dedication and leadership he has significantly advanced pediatric oncology practice at UW Health, raising the program's profile nationally. However, it is his patient-centered approach and his tireless effort to achieve the best possible outcome—in some cases leading to operations that span 12 or more hours a day for multiple days in a row—that truly set him apart.
As his nominators note, "From a purely clinical and technical standpoint and patient perspective, Hau is a true superhero! He spends countless hours with each family, developing a strong bond with the parents and the child, and they all just LOVE him."
Dr. Le shared his perspective on receiving a Rising Star Award: "In my opinion, one person's work is not more important than another's. We're like organs inside our bodies: all are essential and have distinct functions. To use an analogy, getting this award is similar to the heart being told by a cardiologist that it's doing an amazing job. But the heart doesn't exist by itself. The heart is strong because the arms and legs do the jogging, squatting, and weight lifting, and the brain directs the muscles to do that work, and the intestines absorb good nutrition to nourish all the organs."
He continued, "For me, just knowing that I was nominated by my colleagues for this award is an honor and I'm humbled by it. I think this award isn't just about me or my work at UW. I really think this is about the care that we provide to the children and their families at AFCH. I feel very privileged to be able to provide care for children who need it, and to help their parents and families navigate some of the decisions regarding their care."
Congratulations, Dr. Le!