After 14 years with the Wisconsin Department of Surgery, Professor Eugene "Chip" Foley, MD, FACS, made the decision to retire in late September, 2021. But rather than sending him off with a party and a gift, his colleagues chose to honor Foley by personally establishing a fund in his name to sponsor an annual grand rounds visiting professorship.
"The creation of the visiting professorship was both so unexpected and so meaningful to me," Dr. Foley said. "Particularly touching was the diversity of people who generously supported it, representing all of the many groups of individuals whom I have had the privilege of working with and who made my time at Wisconsin so special to me: faculty partners, departmental leaders, surgical educators, present and past trainees, divisional nursing staff, colleagues and friends."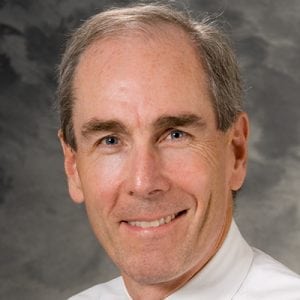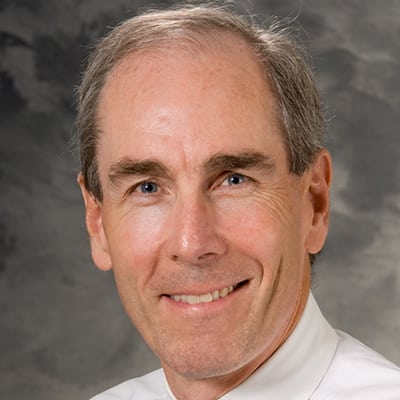 Foley said he's especially glad that the fund will guarantee him an active ongoing relationship with the department, as he'll participate in the annual visiting professor's grand rounds event. "I look forward to the annual event, which will keep me connected to the department and continue to highlight the aspects of our work most dear to me," he said.
As the response to his retirement suggests, Foley's influence on our department, his patients and his field has been profound. In clinical practice he provided excellent care for patients suffering from diseases of the colon and rectum, such as Chrohn's disease, diverticulitis and cancer, and he helped design, open, and direct the UW Health Digestive Health Center. His skill as a surgeon led to him being named a Castle-Connolly America's Top Doctor in Colon and Rectal Surgery for 20-plus years, and he received the Madison Magazine Top Docs Award for colon and rectal surgery in 2014.
In keeping with his dedication to providing the best possible treatment for patients, his research focused primarily on clinical trials designed to improve the surgical care of colorectal disease. Less than a month before he retired, he and his colleagues published a study investigating a novel immunotherapy treatment for colorectal cancer patients.
His research interests had recently expanded, however, to include studies of surgical education, such as the effect of residents' gender on autonomy in the operating room. His dedication to education won him the Department of Surgery Chief Residents' Faculty Teaching Award and the Layton Rikkers Chair Outstanding Resident Teacher Award, and resulted in his being named vice chair of education for the department and the Susan Behrens MD (Class of 1975) Surgery Education Chair. His leadership wasn't limited to the realm of education, however; he also served as the vice chair of clinical operations for general surgery and as the chair of the division of colon and rectal surgery.
Beyond his impressive resume, Foley leaves an impactful legacy of relationships. As Colleague Bruce Harms, MD, said, "He touched every single resident who came through our program, and he provided an example of what senior leadership should be."
Harms also noted that although Foley was largely responsible for growing colorectal surgery at the University of Wisconsin-Madison into a nationally respected program, he did so while emphasizing the program rather than any individual. "We grew in reputation, but as a team," Harms said, and then continued, "This fund is a win-win, in that it honors Chip's body of work and also adds value for the next generation of surgeons. And," he added with clear delight, "we get him to come back every year!"
If you would like to support continuing excellence in surgical education by contributing to the Eugene "Chip" Foley fund, select from the following options:
To make a gift by credit card, please contact the gift services team online or at 800-443-6162 and reference the Eugene "Chip" Foley, MD, Visiting Professorship.
To make a gift by check, please make check out to UW Foundation and enter "Eugene "Chip" Foley, MD Visiting Professorship" in the memo line, then send to the address below:
UW Foundation
U.S. Bank Lockbox
Box 78807
Milwaukee, WI  53278-0807
For more information, contact Michelle Oster, Managing Senior Director of Development at UW Foundation, at michelle.oster@supportuw.org.