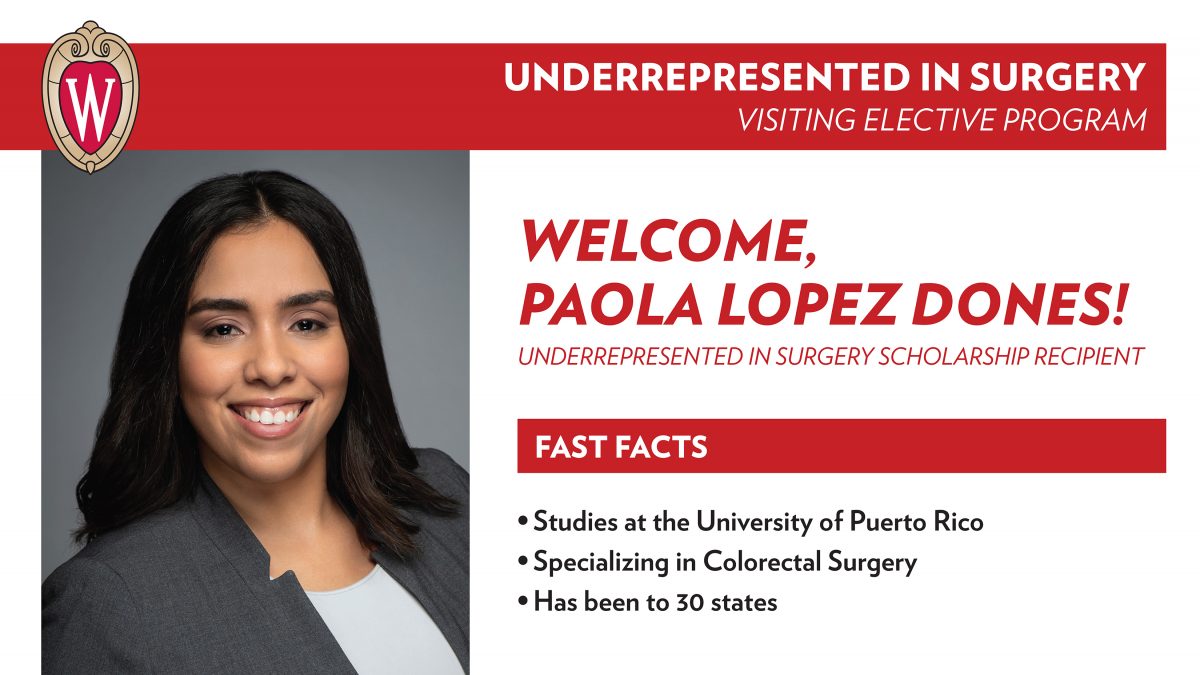 Disclaimer: As of February 25, 2022, the program name has changed from Underrepresented in Surgery to Underrepresented in Medicine (URiM).
This wasn't Paola Lopez Dones' first time in Madison: In fact, it was hardly her first of anything. She's been to more of the United States than most people, having seen 30 states; she's been to the Midwest before, having visited a friend at UW-Madison's MSTP program; and she's visited two Big Ten schools previously, completing separate internships at the University of Michigan and Northwestern University. However, her participation in the Underrepresented in Surgery (URS) Visiting Elective Program at the Wisconsin Department of Surgery did represent a first, given this is the program's inaugural year.
Lopez Dones and her 2021 co-participants in the URS program were selected through a competitive application process open to 3rd and 4th year medical students from underrepresented backgrounds in surgery and medicine. Each participant brought impressive credentials, unique skillsets, and deep curiosity to a rotation in one of our surgery specialties.
Lopez Dones brought a wealth of not only lived experiences but also clinical and academic skills. Her rotation with Wisconsin Surgery was in colorectal surgery, but she previously completed rotations in pediatric surgery, a field she said she loves for its variety. Her internships at Northwestern and Michigan focused on cancer research, and more recently, after her first year of medical school, she lived in Jacksonville, FL, for the summer, studying transplantation at the Mayo Clinic.
Her busy career might keep her on the road, but Lopez Dones' hometown of Guaynabo, Puerto Rico, is her foundation. She graduated summa cum laude as an undergraduate and was inducted into Alpha Omega Alpha Honor Medical Society as a medical student at separate campuses of the University of Puerto Rico system in San Juan.
Outside of her stellar academic performances, she pointed to a campus organization called "Recinto pa' la calle" as one of her most meaningful experiences. Group members provided resources including food, wound care, or just someone to talk to during a hard time for people experiencing homelessness near campus.
It's the combination of all of these experiences and interests that keeps Lopez Dones excited for whatever comes after her graduation this May. Clinical research is one of her top priorities in the short-term, even if she's keeping her long-term options open. She also enjoys clinical care for the opportunity it offers to have an immediate positive impact on others.
While at Wisconsin Surgery, Lopez Dones said she appreciated the welcoming culture. From the management to the patients to the technical skills inside the OR, she has enjoyed learning in a new specialty rotation, especially from her mentor, Elise Lawson, MD, and residents Victoria Rendell, MD, and Betty Allen, MD. And in keeping with her broad travel experience, Lopez Dones spent time exploring Madison outside of the OR, too, checking out the food scene, biking in the breezy fall weather, and visiting dog parks whenever she missed her four dogs at home.