Mandatory Conferences
| | |
| --- | --- |
| Principles of Surgery | Weekly |
| Indications Conference | Weekly |
| Surgical Skills Lab | Monthly by PGY level |
| Morbidity and Mortality Conference | Weekly |
Service-Specific Conferences
| | |
| --- | --- |
| Transplant/Liver Transplant Teaching Conference | Weekly |
| Blue/Orange Service Rounds | Weekly |
| Hepatobiliary-Pancreas Multidisciplinary Conference | Weekly |
| Trauma Conference | Weekly |
| Endocrine Conference | Weekly |
| Pediatric Surgery Conference | Weekly |
| Bariatric Surgery Conference | Weekly |
| Vascular Surgery Conference | Weekly |
| VA Hospital Conference | Weekly |
Other Conferences
| | |
| --- | --- |
| Oral Boards Review Conference | Monthly |
| Quality Improvement Conference | Quarterly |
| Intern School | Weekly |
Conference Highlights
The conference schedule is intended to provide residents with a structured and comprehensive didactic curriculum covering the six ACGME competencies. The conferences are generally based on a Socratic approach to medical education, focusing on comprehensive basic science knowledge and its application to surgeons' specific clinical practices. A core group of faculty is responsible for organizing and leading the conferences. Other department faculty regularly lead conferences on topics related to their specialty.
Cultural Complications
The Cultural Complications curriculum is held once a month during M&M conference and covers topics related to diversity, equity, and inclusion with a brief didactic presentation followed by a case discussion.
Principles of Surgery Conference
Provides a scaffolded curriculum covering the basic science and clinical management principles that inform effective management of surgical patients. The curriculum is structured around the Scientific American Surgery Weekly Curriculum.
Surgery Grand Rounds
Presented by Department and School of Medicine faculty, visiting professors and chief residents.
Indications Conference
Designed to complement the Principles of Surgery Conference by developing residents' ability to account for and explain their decision-making regarding cases they have performed.
Morbidity and Mortality Conference
Key teaching conference during which all complications and deaths are presented by senior residents and discussed by faculty and residents.
Summer Core Competencies Series
A series of concurrent seminars and workshops for interns, junior- and senior-level residents devoted to professionalism, interpersonal communications, system-based practice management, and life-long learning skills. Topics have included medical-legal implications of medical record, ethics of informed consent and advanced directives, micro-skills teaching techniques for residents, patient safety and quality, breaking bad news, coping with bad outcomes, contract negotiation strategies, personal and business finances.
Contact Us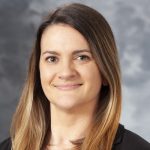 Angie Badura, MAEd
GME Program Coordinator
(608) 263-1377
badura@surgery.wisc.edu