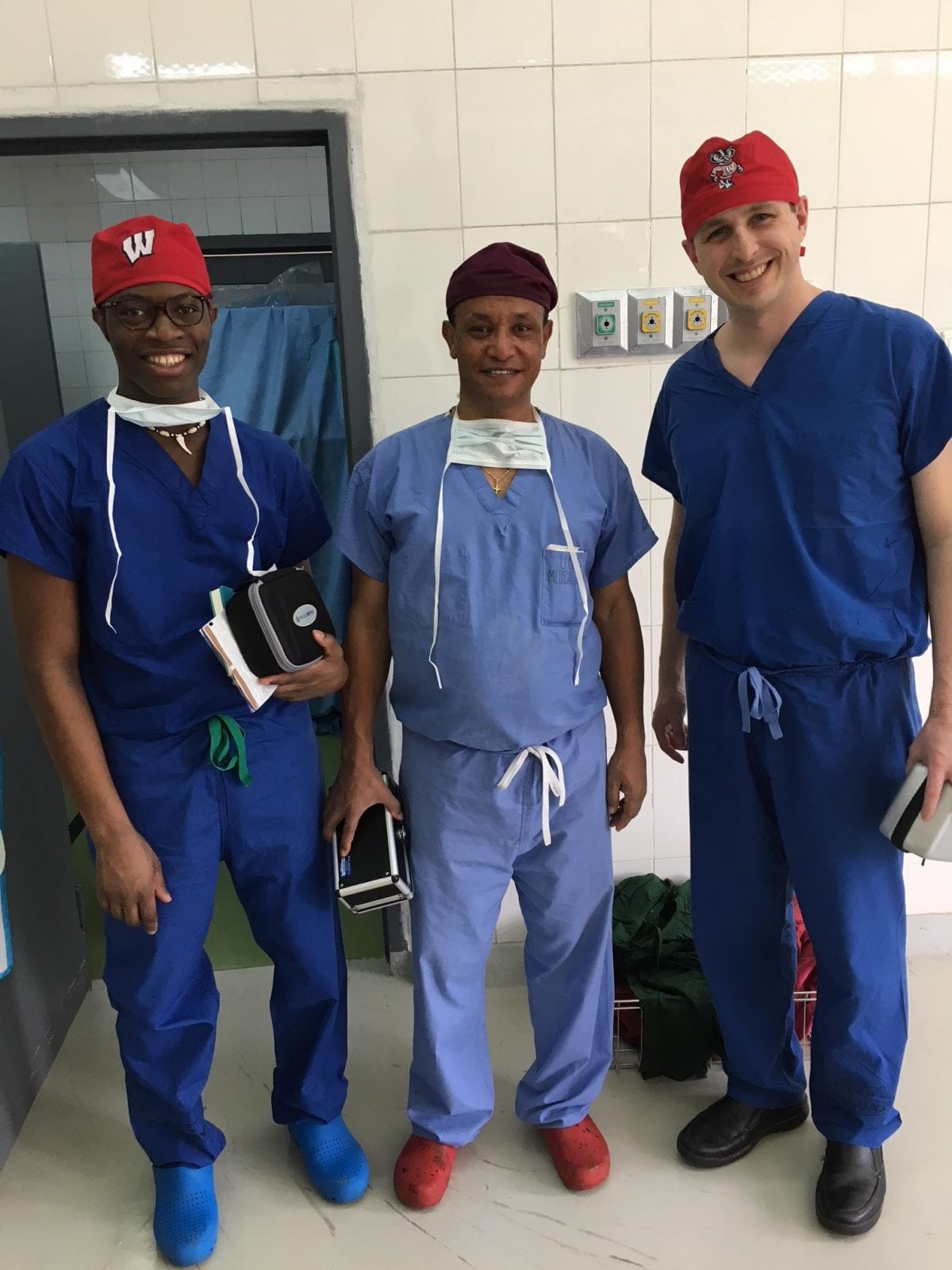 UW general surgery resident Dr. Callistus Ditah, local surgeon Dr. Nebyou, and UW vascular surgeon Dr. Paul DiMusto after a case in the OR. 
Going Global in General Surgery: Resident returns from Department's first international rotation
Increasingly, a modern surgeon is a global surgeon. Whether through clinical service or research collaborations, today's surgeons do global work. That's why the Department of Surgery is excited to announce a new global health opportunity in our Department: an accredited four-to-six week elective international rotation, offered by the University of Wisconsin Hospitals and Clinics and our Department for 3rd and 4th year surgical residents.
Why go global?
"Global health is a security issue, an economic issue, and an economic security issue," Dr. Girma Tefera, Vice Chair of the Division of Vascular Surgery, and Medical Director of Operation Giving Back, an international service program in the American College of Surgeons, said. "And surgery is increasingly being recognized as a crucial component of public health, as important, for example, as vaccines."
For our residents, the rotation will introduce them to practice in resource-limited environments, to disease states and advanced pathophysiology not encountered in the United States, and to culturally diverse, under-served populations.
"Global surgery is about much more than the operations that residents perform abroad," Dr. Tefera said. "Our program participants learn things like better resource utilization, hands-on skills, and leadership skills. An international immersion experience also teaches residents to become better educators and collaborators."
Long-term connections with Ethiopia supports new opportunity
Since 2010, our Department has partnered with Tikur Anbessa Hospital in Addis Ababa, Ethiopia, including introducing laparoscopic surgery methods. Tikur Anbessa is the largest specialized hospital in Ethiopia, and serves as a training center for medical professionals that provide care to the entire country. The hospital has a large operative volume in both general and vascular surgery, making it an ideal learning environment for our surgeons and residents.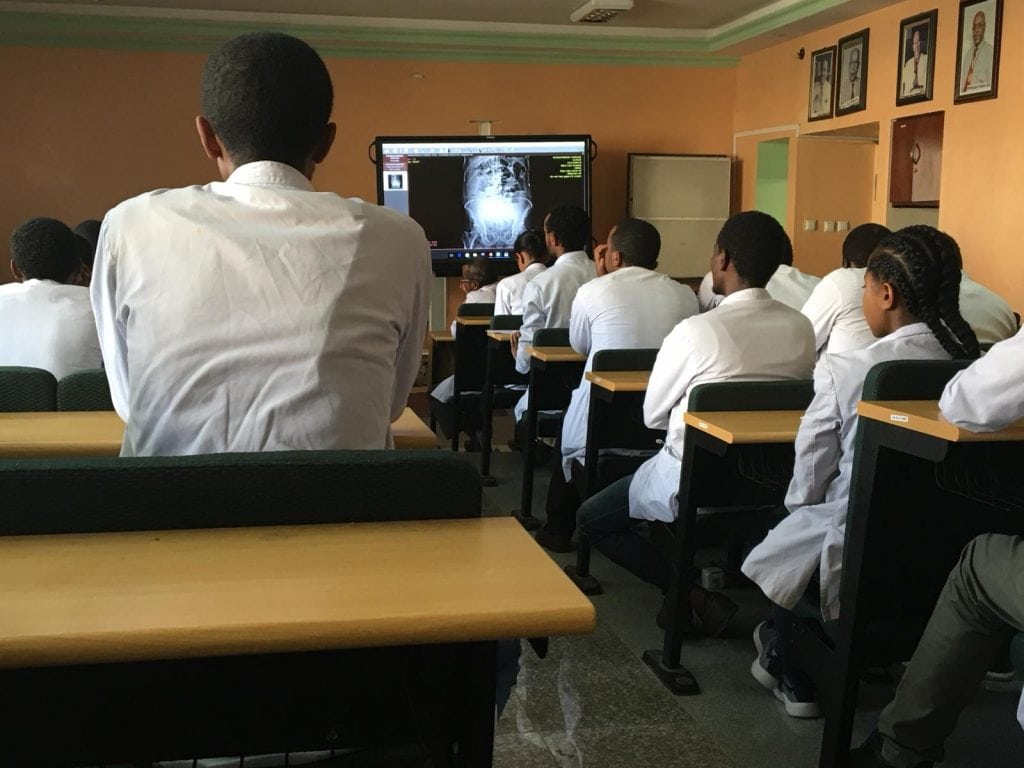 At Tikur Anbessa, our residents and surgeons will primarily participate in inpatient and outpatient clinical rounds. They will also be involved in the operative and perioperative care of general and vascular surgery patients.
First resident returns
With the administrative legwork done, the international rotation program was ready for its first participant: Dr. Callistus Ditah, a third year general surgery resident. He recently returned from his month-long rotation.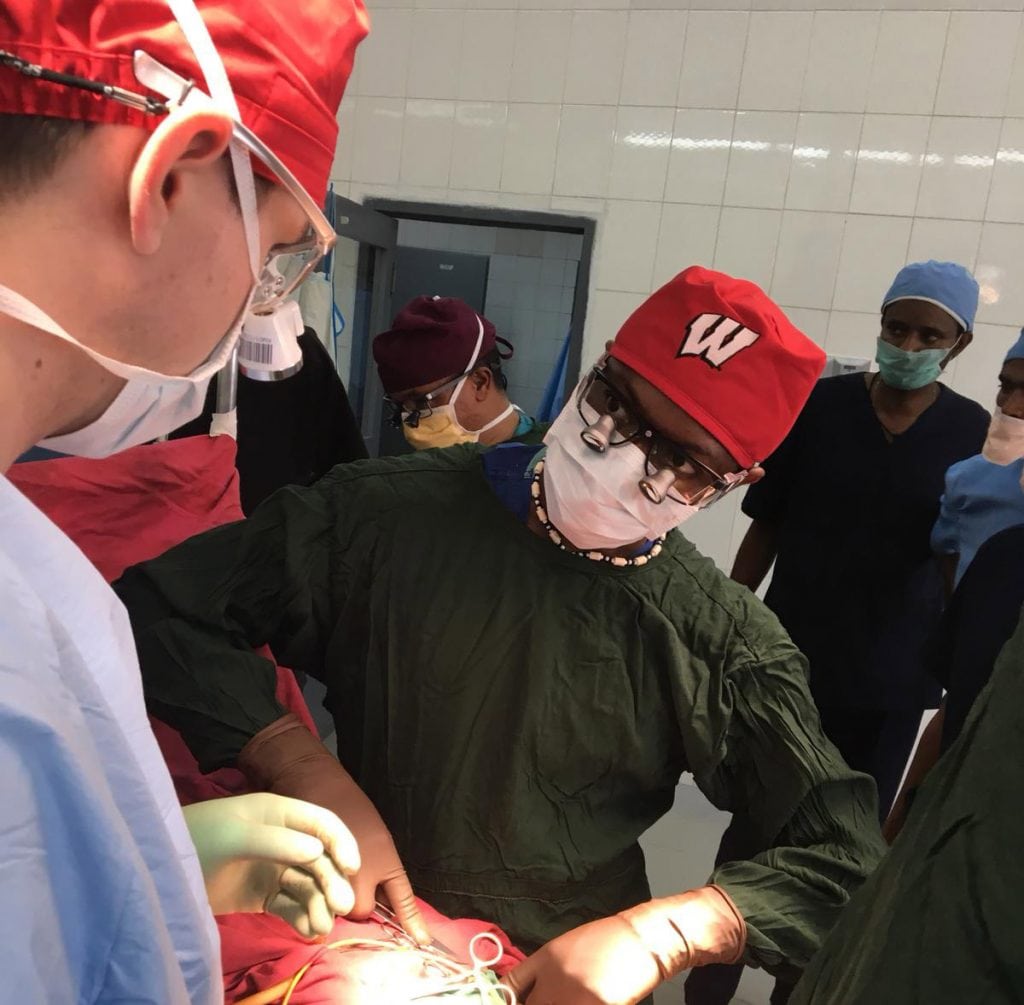 "My time in Addis Ababa was amazing," Dr. Ditah said. "The growth that I experienced during this month both professionally and personally is beyond measure!"
Dr. Ditah always knew global health was an important part of his calling to medicine.
"I came into residency with an interest in global surgery," Dr. Ditah said. "I'm originally from Cameroon, and had the opportunity to experience firsthand the consequences of lack of care. These are magnified when it comes to surgery, especially given the dramatic nature of presentation of most surgical diseases."
Thanks to strong support from our partners in Ethiopia, and Department faculty and administration, Dr. Ditah is the first, but not the last, resident to benefit from this new rotation.
"We are incredibly excited that Dr. Ditah was able to spend time in Ethiopia and are committed to extending this experience to other residents in surgical training programs at the University of Wisconsin," said General Surgery Residency Director Dr. Jacob Greenberg. "We are seeing an increasing pool of resident applicants with both a personal and academic interest in global health and we hope to expand our global health program to accommodate the increased interest amongst our trainees."
Giving back to vascular program
Not only will residents learn valuable skills on the new international rotation, but they'll also be contributing to a collaborative capacity-building project in vascular surgery. A portion of the resident's time will be spent in a vascular surgery rotation, along with a vascular surgery faculty member.
This year, Assistant Professor Dr. Paul DiMusto joined Dr. Ditah for a week of operating and teaching about vascular disease.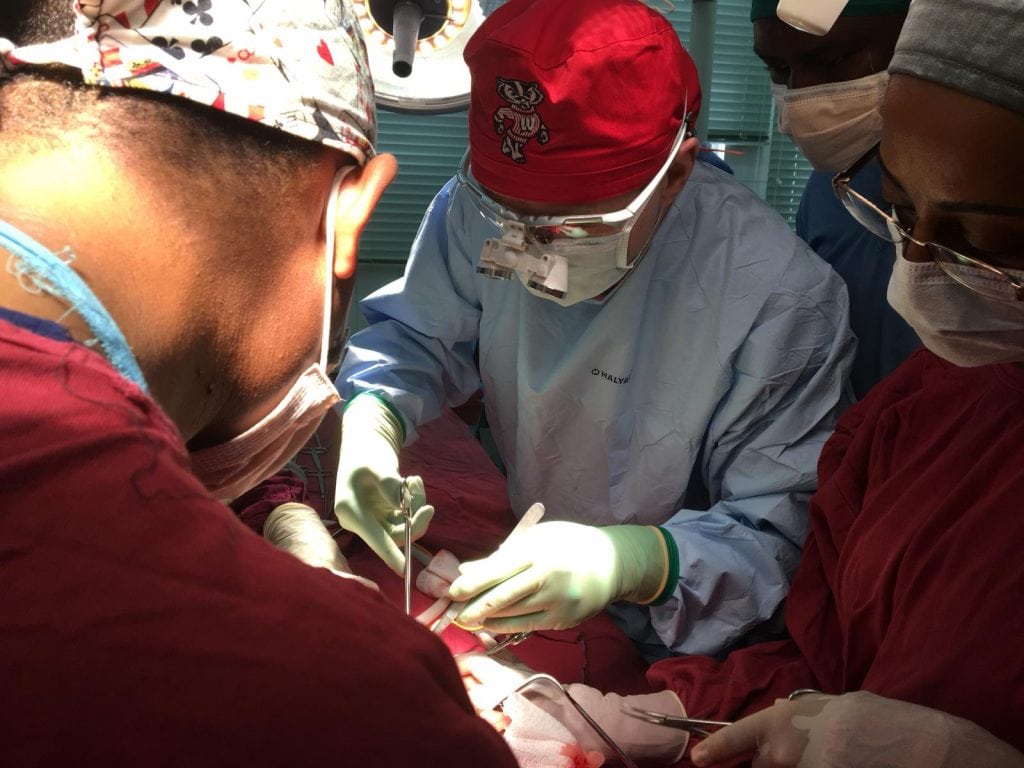 "Our goal is to help Tikur Anbessa start a Vascular Surgery fellowship training program, since there is only one surgeon in the country who currently practices Vascular Surgery," Dr. DiMusto explained.
Want to learn more about this opportunity? Contact Molly Vaux, Department of Surgery Global Health Outreach Specialist, at vaux@surgery.wisc.edu.