Rural-urban makeup of Wisconsin, showing location of critical access hospitals, hospitals, and tertiary care centers. Dr. Ingraham will use the state of Wisconsin as a test case to examine the structure and coordination of interhospital emergency general surgery transfers.
Most people show up to the emergency room expecting to receive care at the same hospital. However, one in five patients with emergency general surgery conditions ends up being transferred to another facility. Studying how those transfers can be more efficient and safe is at the heart of Dr. Angela Ingraham's research, which was recently supported with a Career Development Award (K08) from the Agency for Healthcare Research and Quality (AHRQ). During the five-year intensive mentored experience, Dr. Ingraham will receive salary and research support for her project, "A Critical Assessment of and Opportunities for Improvement in the Interhospital Transfer of Emergency General Surgery Patients."
For the K08 Award, Dr. Ingraham will use the state of Wisconsin as a test case to examine the structure and coordination of interhospital EGS transfers.
Improving the Interhospital Transfer Process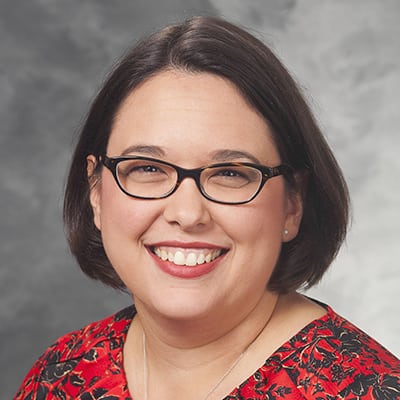 Patients suffering from acute, non-traumatic illnesses such as appendicitis or bowel obstruction may require emergency general surgery (EGS). Nearly one in five EGS patients will be transferred – for a wide variety of reasons – from an emergency department to another hospital for care. After adjusting for severity of illness, data show that non-trauma EGS patients who are transferred will experience more complications and death than those who are admitted directly. By contrast, after adjusting for injury severity, trauma patients transferred from emergency departments to major trauma centers had lower in-hospital mortality than trauma patients remaining in the original hospitals.
According to Dr. Ingraham, one major issue is that "EGS transfer protocols vary widely, and there are no national guidelines for best practices. In that sense, the field of EGS is where trauma surgery was 40 years ago."
While 28% of Wisconsin's population lives in rural areas (compared to 20% of the general US population), only 11% of Wisconsin physicians practice there. Further, 45% of the 187 hospitals in Wisconsin transferred EGS patients to UW Hospital between 2014 and 2016. This makes Wisconsin an ideal place to study coordination of care for EGS patients. Dr. Ingraham will use the methods of network analysis to map transfers, along with in-depth, qualitative interviews with providers involved in the transfers.
---
Learn more
Listen to the Surgery Sett podcast episode where Dr. Ingraham discusses her work on emergency general surgery transfers.
---
Finally, she will conduct a statewide series of panels with key stakeholders to gather input for designing an intervention. One such group of stakeholders consists of nurses who work across the country in transfer centers. Dr. Ingraham has already begun to listen in on an informal, monthly call between these nurses as they discuss challenges that come up during patient transfers. Dr. Ingraham plans to interview them in the hope that from their struggles, new ideas for improving the transition of care for EGS patients will arise.
The Importance of Mentors
Dr. Ingraham will benefit from the guidance of mentors Caprice Greenberg, MD, MPH, and Gretchen Schwarze, MD, MPP, experts in the areas of surgical collaboratives, stakeholder engagement, and qualitative analysis. Dr. Greenberg has been instrumental in establishing the Surgical Collaborative of Wisconsin, a statewide platform for collecting and reporting data, and supporting surgeons and hospitals as they study and implement evidence-based practices. This infrastructure will help Dr. Ingraham to build a network to study the EGS transfer system and to test future interventions. Dr. Ingraham's mentors in the UW School of Medicine and Public Health have expertise in network analysis (Marlon Mundt, PhD, MS, MA) and transitions of care (Amy Kind, MD, PhD). She will also work with collaborator Heena Santry, MD, MPH, an acute care surgeon at University of Massachusetts and the principal investigator on an R01 grant that focuses on structural and process factors affecting outcomes for non-trauma surgical emergencies.
A native of Aurora, Illinois, Dr. Ingraham studied biology and was Valedictorian of her class at Truman State University in rural Missouri. She received her medical degree from Loyola University Chicago Stritch School of Medicine in 2006. Her mother, who had a long career as an operating room nurse, brought home stories from work to discuss around the family table, sparking Dr. Ingraham's early interest in becoming a surgeon.
Dr. Ingraham also credits a generous professor in medical school as a key influence. During her very first week at Loyola, she was paired randomly with acute care surgeon Dr. Thomas J. Esposito in a physician-mentor program. "He really took me under his wing. We did some research together, and he promoted my career. For example, he helped me self-design a one-month fourth-year rotation at Johns Hopkins, where I worked with Ellen McKenzie, PhD, now Dean of the Johns Hopkins Bloomberg School of Public Health."
Dr. Ingraham completed her general surgery residency at the University of Cincinnati College of Medicine in 2013, taking time out to complete a two-year Clinical Scholar in Residence Program at the American College of Surgeons (2008-2010), where she solidified her plan to pursue health services research. She next completed an acute care surgery fellowship at the University of Pittsburgh School of Medicine in 2015.
Research by Dr. Ingraham and her team on the characteristics and timing of interhospital transfers of EGS patients was published recently online in the Journal of Surgical Research. Support from the K08 grant will allow Dr. Ingraham to make strides toward her long-term goal: to develop a health services research program studying emergency general surgery that includes quality of care, practice patterns, and policy evaluation.
About the future of EGS, Dr. Ingraham says, "Some have championed for regionalization, sending people with certain conditions to specific hospitals, the way we treat people with some traumatic injuries. With non-traumatic illnesses, that's harder to do. A paramedic can go to the scene of a crash and often tell how sick the patient is by looking at them – they have broken bones, they need to be intubated, etc. But if a paramedic is called to someone with severe belly pain, they don't know why; they can't take the patient straight from that scene to a higher level center if that is needed. It will be interesting to see how emergency general surgery evolves over the next decade."
Author: Molly Wesling, PhD