Every year we honor our talented alumni moving surgery forward by presenting one special alumnus with the Forward Award, which acknowledges outstanding alumni contributions by current or former residents, faculty, and fellows of the Department of Surgery.
We're proud to announce the 2019 Forward Award Winner: Dr. Rebecca Sippel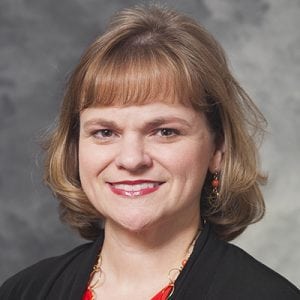 Dr. Sippel, who leads the Division of Endocrine Surgery, is both a general surgery residency graduate and current faculty leader.
In addition to her excellent clinical work in endocrine surgery, Dr. Sippel has dedicated herself to educating the next generation of surgeons. Dr. Sippel is the Director of the Endocrine Surgery Fellowship, and has been a key leader in UW's medical student education. Dr. Sippel is a devoted mentor of surgeons of all career stages.
Dr. Sippel runs an active research program on thyroid cancer, including a recently concluded R01 grant studying central neck dissection in patients with thyroid cancer.
Dr. Sippel has served in a number of leadership roles, including President of the Association of Academic Surgery, Secretary of the American Association of Endocrine Surgeons, and as the current Vice Chair of Academic Affairs and Professional Development for the Department of Surgery.
As her nominator put it: "Dr. Sippel is truly a world class surgeon."
Congratulations on this well-deserved award, Dr. Sippel!
Do you know an alumnus who is making outstanding contributions to surgery? Nominations for the 2020 Forward Award will open in spring of 2020.