UW Department of Surgery surgeons create solutions to protect the supply of PPE
The COVID-19 pandemic has changed healthcare delivery in medical facilities for the foreseeable future. Frontline healthcare workers face great personal risk while caring for patients due to exposure to aerosol droplets, which can cause transmission of the virus.
Many healthcare facilities are currently confronting shortages of personal protective equipment (PPE) for healthcare workers, including face masks, gloves, gowns, and respirators. Facing the urgent need to conserve PPE, Department of Surgery physicians have created innovative solutions to protect themselves and their operating room staff during surgery.
Working in collaboration with the UW-Madison College of Engineering, the UW Makerspace, UW-Madison Division of Information Technology (DoIT) Printing Services, and Sector67, surgeons Hau Le, MD, and Michael Bentz, MD, have created innovative devices to protect healthcare providers as they come in contact with patients.
Reducing exposure to patient aerosols with negative pressure
Dr. Le has created the first of its kind negative pressure isolation box, called The BADGER, which stands for the Box for Aerosol and Droplet Guarding and Extraction in Respiratory infection. The BADGER is designed to reduce exposure of healthcare workers to droplets and airborne particles from patients.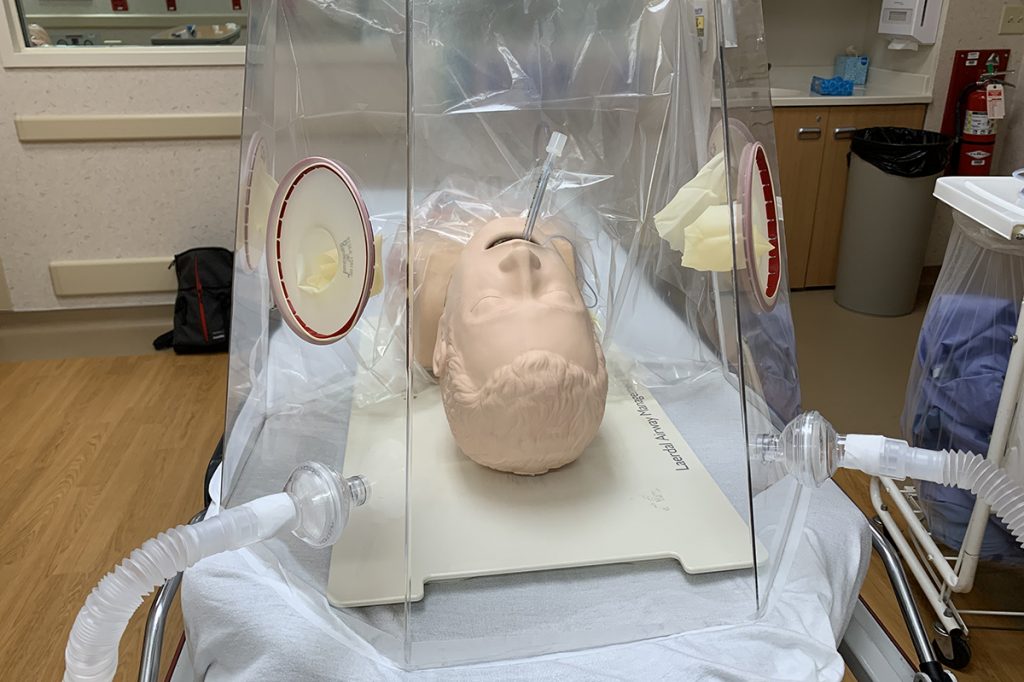 Combining the concept of the "intubation shield" with a negative pressure room, use of the box can keep virus-containing droplets and small aerosolized particles from spreading to healthcare workers. The device is particularly useful for providers who perform high-risk procedures on patients such as intubation or extubation. The BADGER has been approved for use by UW Health.
"The device has a reusable clear shell and other disposable accessories," says Dr. Le. "The accessories are commonly available in any hospital, such as surgical gloves, tubing, filters, drapes, and tapes. Together, they create a semi-sealed device. We designed it so it could be easy to assemble. We've done some testing and the results have been very encouraging."
Earlier this month, Dr. Le received a COVID-19 Response grant award from the Wisconsin Partnership Program and the Partnership Education and Research Committee to continue his research and development of the BADGER, in collaboration with Dr. Tim Bertram's lab in the Department of Chemistry.
Safety innovation with design improvements
The Face Shield, created by Dr. Bentz, is a protective barrier to be worn by surgeons and staff at the operating table. The surgical shield can accommodate tools such as loupes, cameras, and headlights.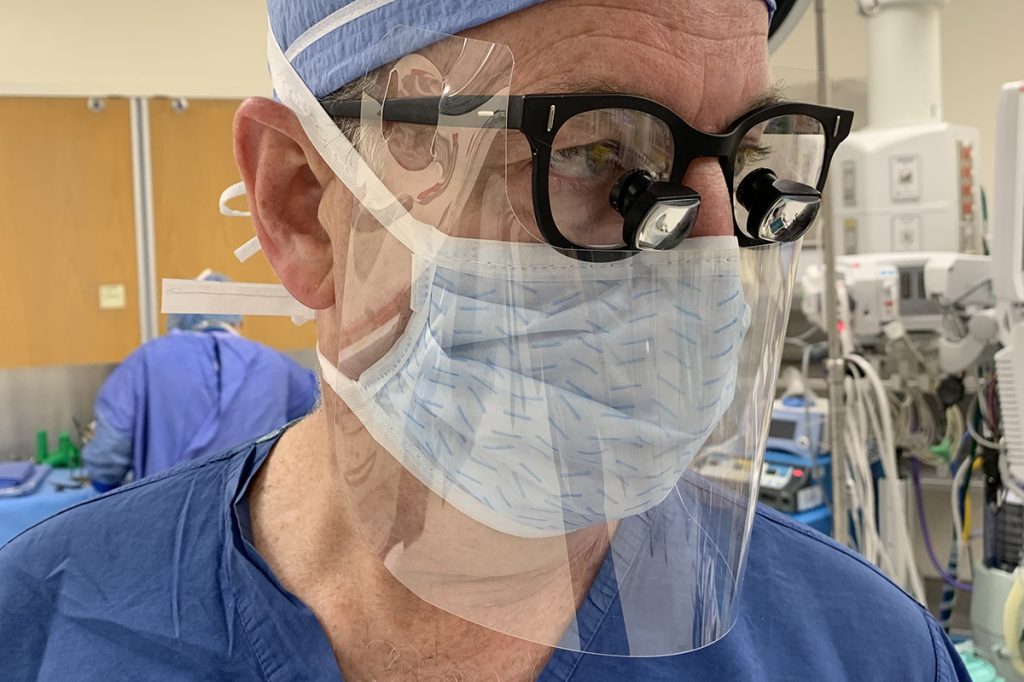 "I've used the shield in the operating room and it's very effective," says Dr. Bentz. "It gives the surgeon an added degree of protection. Our current face shields didn't allow us to use our operative devices, so I was most interested in developing something that could accommodate all three types of tools."
From concept to production
Both Dr. Le and Dr. Bentz worked closely on their concepts with the UW-Madison College of Engineering, and the UW Makerspace, who brought the designs to production.
Lennon Rodgers, director of the Grainger Innovation Lab at the UW-Madison College of Engineering, explains that the team is working on creation of open-source designs for PPE that have been vetted by engineers and hospital staff. "We also connect suppliers to aspiring or existing manufacturers of PPE. The College of Engineering and UW Makerspace are currently working on several COVID-related projects."
The UW Makerspace produced versions of Dr. Bentz' prototype using computer software and a laser cutter. It was then tested by Dr. Bentz in the operating room. The final design was created by Geoffrey Larson at the UW-Madison Division of Information Technology Printing Services (DPPS), who created a die tool to make larger quantities more quickly. DPPS has delivered 225 of the surgical shields to UW Health for use.
"The product design is quite simple—a plastic sheet with a few holes," says Karl Williamson, shop manager at UW Makerspace. "But it took many connections, tools, and skill sets to bring it together. Testing and feedback from Dr. Bentz, rapid prototyping and design from the UW Makerspace, and DPPS to make the production run. The whole process was a mini-exercise in user-centered design that requires all of these stakeholders."
A team effort to create PPE solutions
Both doctors credit creation of these devices to the collaboration with UW-Madison engineers and instructors, as well as hospital staff and medical students.
"This project has been a tremendous collaborative effort including our anesthesiologists, the OR staff at the American Family Children's Hospital and the engineers." says Dr. Le. His team, which includes Kevin Janek, MD, (research surgical resident), Jesse Wang and Khang Huynh (UW-Madison medical students), is working with Dr. Bertram's lab to submit a manuscript based on the design, construction and testing of the BADGER. "The purpose," Dr. Le says, "is to spread the word so that other facilities can build their own devices to protect their frontline doctors, nurses and supporting staff based on the work that we've done."