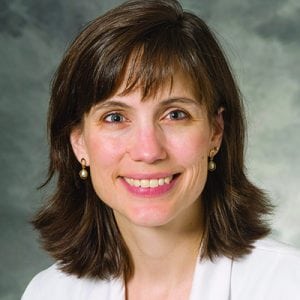 We're pleased to share that Dr. Gretchen Schwarze has been awarded the Morgridge Professorship in Vascular Surgery.
In addition to her vascular surgery practice, Dr. Schwarze is a nationally recognized medical ethicist, with expertise in patient-physician communication and decision-making. Her research focuses on improving communication so clinicians can help patients avoid unwanted treatment and make decisions that align with their values, preferences and goals. Learn more about her work.
"The University of Wisconsin and the School of Medicine and Public Health is a special place because of its long tradition supporting work in the fields of bioethics and healthcare delivery research," Dr. Schwarze said.
The Morgridge Professorship in Vascular Surgery will provide Dr. Schwarze with flexible funding to pursue her research. Thank you to the Morgridge family for providing matching funds for this professorship, and thank you to all our supporters of the vascular surgery program.