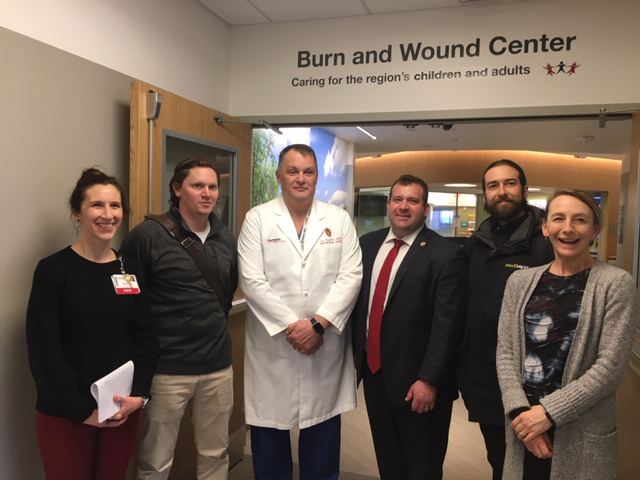 Mike Wos knows what it's like to be a firefighter and a paramedic. On the scene of many fires, he's rescued people who have sustained life-altering burn injuries. Witnessing the struggle and courage of burn survivors and their families inspired him to become an advocate for fire safety and burn prevention. His deep commitment to the recovery of burn survivors also led to his support of the UW Health Burn and Wound Center.
(Pictured above, left to right: Lori Mickleson, UW Health; Tyler Jefferson, Jefferson Fire & Safety; Dr. Lee Faucher, UW Health; Mike Wos, PFFWCF; Jesse Laz-Hirsch, Paul Davis Restoration; Dr. Angela Gibson, UW Health.)
As Executive Director of the Professional Fire Fighters of Wisconsin Charitable Foundation (PFFWCF), Mike is focused on fire safety initiatives and education, support for those with burn injuries, and assistance for firefighters and their families during times of need.
For 30 years, PFFWCF has championed burn survivors of all ages and in all stages of recovery, as well as fire fighters across Wisconsin. Programs help more than 120 survivors annually, including their Summer Camp for Burn Injured Youth. Committed to promoting education, risk mitigation, and aid for survivors, the organization funds fire safety education for grade school students and partners with the Wisconsin Smoke Alarm Fire Education Coalition (WisSAFE) and Wisconsin Fire Sprinkler Coalition (WFSC) to perform smoke alarm installation for at-risk families.
The PFFWCF's new charitable event, Burn Ball, was held on February 1. Proceeds from the inaugural gala will benefit the new UW Burn and Wound Center and the care and treatment of burn patients. "We've been long-term contributors to the Burn and Wound Center at UW Hospital in Madison. It was exciting to learn that we could continue to assist them with a gift for the new, state-of-the-art center," says Mike. Because of generous donations like the ones received at the Burn Ball, the foundation has made a $100,000, five-year commitment to name a family lounge.
Opening March 16, 2020, the UW Burn and Wound Center at UW Hospital in Madison is one of the only burn centers in Wisconsin, and is the only center in Wisconsin that offers Level I Trauma Care for both children and adults as a Burn and Wound Center, verified by the American College of Surgeons (ACS). The center also functions as a regional center for patients beyond Wisconsin.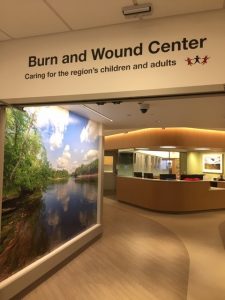 Offering highly specialized burn care, the expanded facility will increase patient beds for both children and adults from 7 beds to 11, and provide two separate tub rooms offering additional space for patients to have their burns washed. Dr. Lee Faucher, UW Burn Center Director, calls the burn washing process one of the most important in patient recovery.
"Recovery is a long and intensive process. The new space is a physical complement to the research and direct medical care we provide, and allows us to offer the space and equipment that burn patients require to recover. We've been partners with PFFWCF for many years, and we're grateful to have their support to provide a special place for families and patients in our care," says Dr. Faucher.
Burn patients typically have a longer recovery stay than other severe injuries. Physical and emotional recovery is often a life-long process, with rehabilitation extending well beyond their inpatient care. The time spent at the hospital is crucial to successful long-term recovery.
Long-awaited upgrades to the center will allow for more efficient care and treatment. Larger rooms and bathrooms with private showers will offer more privacy to patients and their families. In addition to a second procedure room, the new center will include an enhanced physical therapy/occupational therapy gym, a family conference room, and a playroom for children.
"Gifts from organizations like PFFWCF make all this possible and are invaluable to what we're trying to accomplish," says Dr. Angela Gibson, UW Health Medical Director of Wound Healing Services. "They share in our vision by helping us provide training to our burn staff and resources to survivors. With their help, we've been able to fund equipment that is critical to wound care, such as distraction machines that shift focus away from wound treatment. People with severe burns need a place to receive expert care, and our new center can better provide the care patients need. The support of donors is essential to make recovery a reality for so many patients and families."
From his experience as a fire fighter and work with PFFWCF, Mike knows the impact the funds will have on those with life-altering burns. "The help we receive from the community changes lives. There's no doubt in my mind—the donors make the work we do possible," he says. "We believe our partnership with the UW Burn and Wound Center will transform the lives of those affected by burns."
TO DISCUSS HOW YOU CAN SUPPORT THE UW BURN AND WOUND CENTER, CONTACT:
Michelle Oster
Managing Senior Director of Development
UW Department of Surgery
Wisconsin Foundation and Alumni Association
Direct: (608) 265-9144 • Cell: (608) 345-2953 • Email: michelle.oster@supportuw.org
You can also make a gift online to the Burn Team Advancement Fund >>