Bill and Sandy Turnipseed Vascular Surgery Fund: This fund was established in 2021 by Dr. William D. Turnipseed, Emeritus Professor of Vascular Surgery at the University of Wisconsin-Madison School of Medicine and Public Health. Dr. Turnipseed was the first vascular surgeon recruited to UW in 1974 and a driving force behind the creation of our dedicated vascular surgery program. This fund will support the academic mission of the Division of Vascular Surgery now and into the future.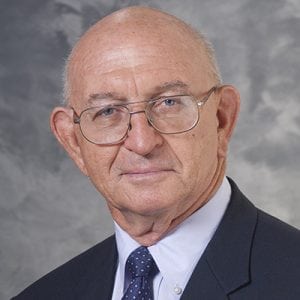 William Turnipseed was a surgical fellow at The Ohio State University (OSU) when he first met Folkert (Fred) Belzer, MD. Belzer was chair of the Department of Surgery at UW-Madison and a visiting professor at OSU. Turnipseed recalls being impressed with Belzer, appreciating his no-nonsense approach in the operating room and his cool under fire when he had to give a grand rounds presentation without access to his notes. So when Belzer decided that he wanted to recruit a vascular-trained surgeon to Wisconsin,  Turnipseed, who was the only fellowship-trained vascular surgeon in the Midwest at the time, was intrigued by the offer.
Raised in the warmer temperatures of the southeastern United States, Turnipseed first looked for job opportunities in Florida where his family lived at the time. But his sense was that none of the programs there were ready for a vascular surgeon.
"So I figured that this deal in Wisconsin wasn't all bad, particularly when I did my interview with Belzer [in August]—looking out from the dining room at the old Edgewater there were sea planes landing, sailboats, and people sunbathing on the wharf," he recalls. "Then I moved up here in October with a windbreaker and loafers, and it was like 'what the hell happened?!'"
Despite being a bit shell-shocked by Wisconsin's notoriously changeable weather, and initially convinced that he'd spend three years here at most, Turnipseed bought into Belzer's vision for the department. He ended up spending his entire professional career as a Badger.
Turnipseed's journey as a vascular surgeon is marked by a number of "firsts." When OSU started a vascular surgery fellowship, Turnipseed became the first fellow in the program despite beginning his time there as a National Institutes of Health-funded trainee in transplant immunology. He made the switch because he was drawn to the vascular aspects of transplantation.
"The thing I liked about doing transplants was that I knew the difference between pink and blue!" he said. "When you hooked the kidney up and it turned from blue to pink, it was basically the vascular part which was a very precise and particulate piece of surgery. So I got enthralled with that."
At the time, most vascular procedures were done by cardiothoracic surgeons when they weren't performing heart procedures. As a vascular specialist, Turnipseed had performed over 500 vascular cases by the time he finished his fellowship. So, when he was recruited as Wisconsin's first vascular surgeon, he was already more experienced in vascular than the most senior general or cardiothoracic surgeons on staff.
With his considerable expertise, Turnipseed put Wisconsin Surgery on the map for vascular procedures like aneurysm repair, limb salvage, and varicose vein treatment. Always looking to progress, he also started the first independent surgical clinic that existed in the UW Health system: the noninvasive peripheral vascular diagnostic facilities at UW Hospital and West Side Clinics. He then served as the clinic's director for nearly 30 years.
Wanting to establish vascular surgery as a stand-alone division within the Department of Surgery, Turnipseed next turned his attention to program growth. He reached out to surrounding cities like Dodgeville and Portage, and essentially started a regional vascular care program. He knew that as the sole vascular-trained surgeon at Wisconsin, he alone could not sustain the growing need for these services. So he recruited several of the current Department of Surgery faculty members, including  Charles Acher, MD, Jon Hoch, MD, and Jon Matsumara, MD, to join the Division of Vascular Surgery and share the increasing workload.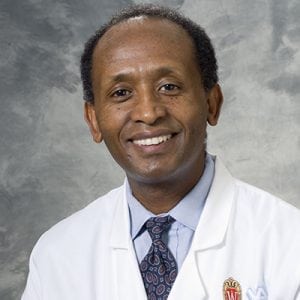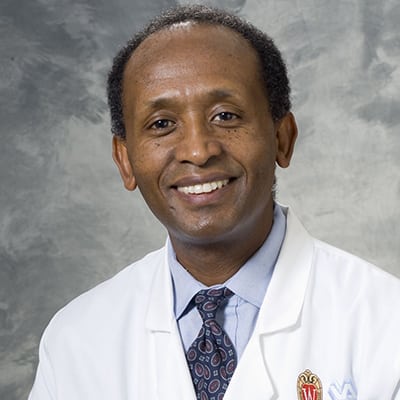 Having achieved his divisional goal, Turnipseed began to focus on developing a vascular training program at UW, with the goal of providing specialized post-residency training. It was the development of this program that led to the fateful meeting of Turnipseed and Girma Tefera, MD, in 1999. A native of Ethiopia who was raised under the dictatorship of Haile Selassie and the subsequent civil war that overthrew the Selassie government, Tefera became the first fellow in the newly established vascular fellowship program in 1999. He is now the Chair of the Division of Vascular Surgery and Vice Chair of Global Surgery. Turnipseed speaks proudly of Tefera and his desire to help develop sustainable surgical practices in low-resource locations around the world, saying with a catch in his voice, "It didn't take long to figure out this guy's really special." Indeed, Tefera is becoming an internationally recognized leader in global surgery.
In addition to serving as Chief of Vascular Surgery from 1974-2009, Turnipseed's legacy in our department extends to a surgical side interest that stemmed from his own athletic lifestyle. As a former semi-professional soccer player who competed in 30 triathlons and 17 Birkebeiner ski races, he became interested in the surgical treatment of sports-related overuse injuries. He applied his strong understanding of the psyche of athletes to build what he refers to as a "quirky hobby" into a specialty that has served patients from all over the world, including professional athletes. A consummate surgeon-educator, Turnipseed spent the last three years of his career training current Division of Vascular Surgery faculty member Courtney Morgan, MD, to take over this aspect of his practice.
Turnipseed initially retired from Wisconsin Surgery in 2012 but returned to practice several years later to help meet clinical needs, finally hanging up his white coat for good in 2021. He knew, however, that he wanted to continue to support the program to which he had dedicated his career.
"I don't have kids," he said. "This program kind of is my kid, so from that standpoint taking care of it makes sense."
To that end, Turnipseed endowed the Bill and Sandy Turnipseed Vascular Surgery Fund in late 2021. His goal is to foster the first-rate clinical care, stellar training and education, and cutting-edge research provided by the program that he helped create and nurtured for nearly 40 years.
To join Dr. Turnipseed in supporting the vital work of the Vascular Surgery Division, visit the University of Wisconsin Foundation giving site and type "Bill and Sandy Turnipseed Vascular Surgery Fund" in the Fund Name field.