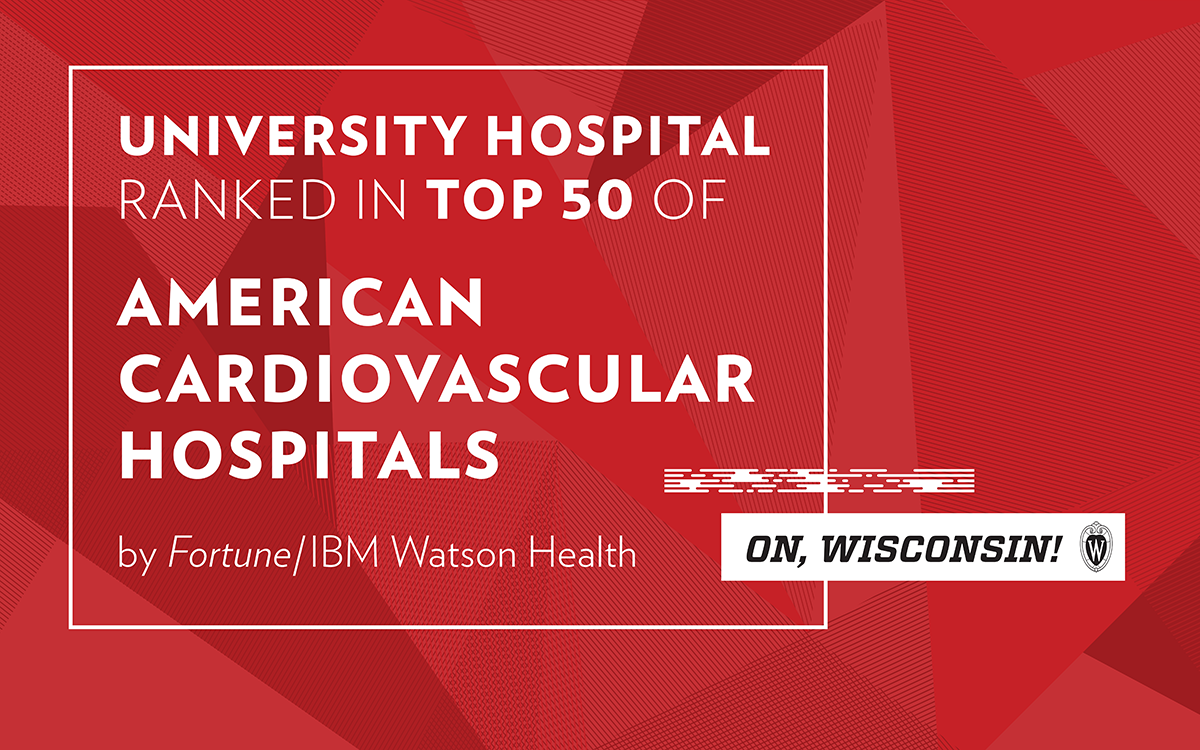 University Hospital was recently named the 7th best teaching hospital with a cardiovascular residency program by IBM Watson Health, a division of IBM committed to helping build smarter health ecosystems.
The ranking places University Hospital in the top 50 cardiovascular hospitals in America for the 3rd consecutive year and 12th overall year on IBM Watson Health's annual list, which started 20 years ago. Among the 951 hospitals surveyed by IBM Watson Health, University Hospital is in a four-way tie for most frequent appearances on the list alongside St. Joseph Mercy Ann Arbor Hospital in Ann Arbor, MI, Bellin Health in Green Bay, WI, and BaylorScott & White Hospital in Temple, TX.
Education and training in University Hospital for the cardiovascular surgeries ranked in the list is shared by both Wisconsin Surgery's Divisions of Cardiothoracic Surgery and Vascular Surgery, in addition to the Department of Medicine's Division of Cardiovascular Medicine. The Division of Vascular Surgery is led by Professor Girma Tefera, MD, FACS, who has held the position since 2020 and was acknowledged as one of Madison Magazine's Top Docs in 2014.
"There's something special about making this esteemed list a dozen times, and you can tell why when you see the quality care that moves surgery forward," Dr. Tefera said. "Our residents, fellows, faculty, and staff all contribute to this success."
The Division of Cardiothoracic Surgery is led by Chair and Professor Malcolm DeCamp, MD, FACS, who has served in the position since 2018, and also serves as a Director on the American Board of Thoracic Surgery.
"I'm proud of the exceptional work that our faculty, staff and trainees have produced every day this year, and today, especially so," Dr. DeCamp said. "I look forward to seeing what we do next."
To learn more about the methodology of this year's list, visit the Fortune website. To learn more about each division, visit their respective pages on our website for both Vascular and Cardiothoracic Surgery.