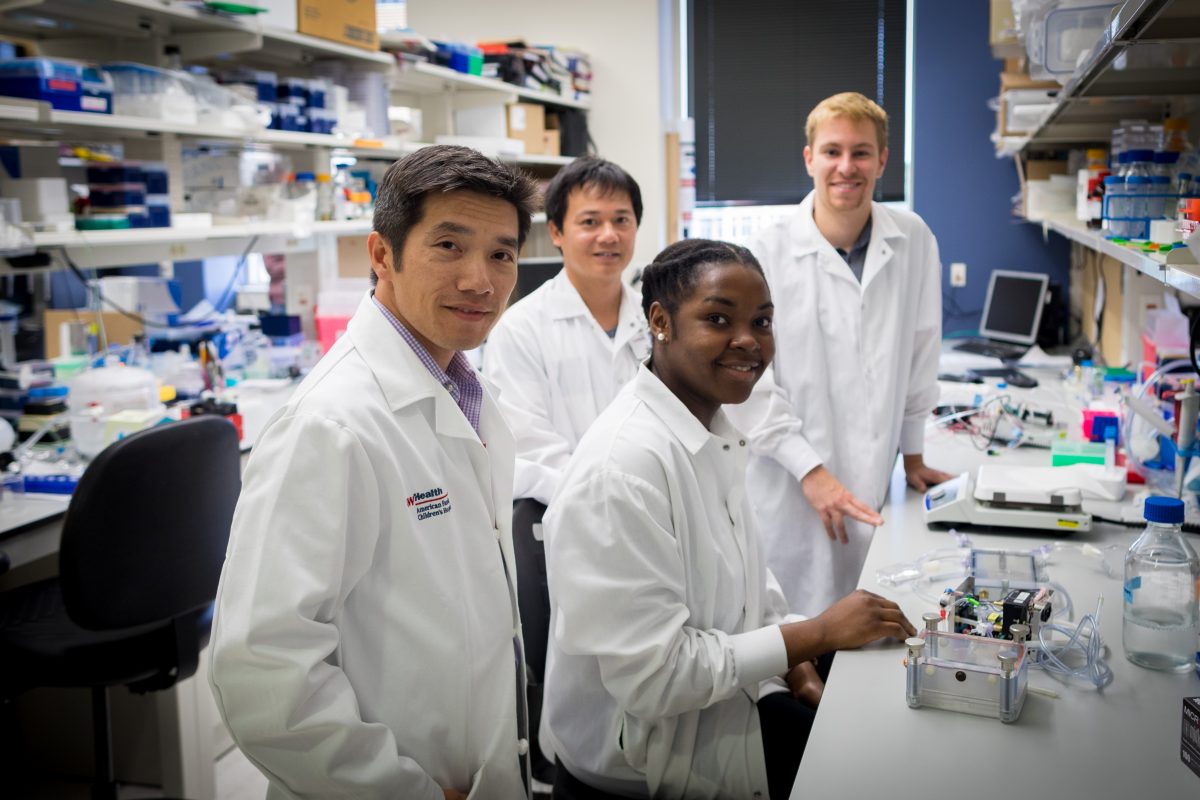 Dr. Hau Le (left) and lab members. 
Get to know the research of Dr. Hau Le, Assistant Professor of Pediatric Surgery.
Dr. Hau Le's lab is embedded within the BioInspired Materials Lab of Dr. William Murphy of the Department of Biomedical Engineering. He and his team combine the expertise of pediatric surgery, neonatology, biomedical engineering, genetics, and pulmonology to investigate lung growth and alveolar development under various mechanical conditions.
Dr. Le's research primarily focuses on the effects of mechanical forces on lung development. When operating on patients with congenital diaphragmatic hernia (CDH), Dr. Le observes that, besides genetic abnormalities, there is significant alteration of the mechanical forces applied on the lung during prenatal and postnatal periods such as compression by abdominal organs, lack of negative intrathoracic pressure during fetal breathing, and mechanical ventilation. In CDH, a defect in the diaphragm allows abdominal content to migrate into the chest, thus compressing on the lungs, preventing them from fully developing. As a result, these children suffer from devastating pulmonary hypoplasia and persistent pulmonary hypertension (PPHN). Survivors of CDH also have a high incidence of bronchopulmonary dysplasia (BPD), a condition that also affects premature infants without CDH.
Dr. Le hypothesizes that since mechanical forces play a major role in cell growth, their changes during fetal development and the early neonatal period would lead to significant abnormalities in lung size and function. To study this hypothesis, Dr. Le and his collaborators built a biomechanical thorax that mimics the mechanics of a fetal chest to investigate the roles of mechanosensors in lung development, specifically in children with CDH and BPD, in order to develop effective treatments for them.
Dr. Le's other research interest is tissue engineering using plant-derived scaffolds. He collaborates with Dr. Murphy to use decellularized plant tissues as scaffolds to engineer tissues.
Clinically, Dr. Le is a busy surgeon who likes to take on complex cases. He has an interest in pediatric surgical oncology and is involved in multiple clinical studies with the Pediatric Surgical Oncology Research Collaborative. He and Dr. Lisa Arkin of Pediatric Dermatology were recently awarded a combined UW Skin Diseases Research Center/Institute for Clinical and Translational Research grant to study laser hair removal as primary treatment for pilonidal disease. Dr. Le is also a devoted mentor for several UW-Madison graduates, undergraduate students, and a Doris Duke Summer Research student.