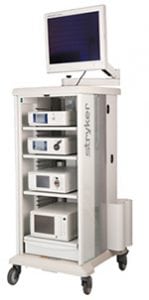 Stryker Endoscopy Camera Tower
Stryker's innovative endoscopy equipment has set a new standard in the operating room. They were the first to combine voice activation, infrared technology and high-definition video to give surgeons greater control and patients better outcomes. What's more, its intuitive, ergonomic endoscopy tools make surgery easier and more efficient than ever before.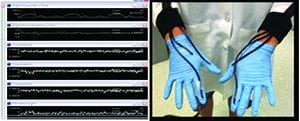 MotionMonitor® Systems by Innovative Sports Training
The MotionMonitor® is a turn-key, 3-D motion capture system designed to synchronously collect data from kinematic trackers, EMG, force plates, video, event markers and other analog devices. Data generated from a rich collection of analytical tools are immediately available for playback with graphical displays of all data outputs. Real-time measurement of the human body's movement is achieved using the broadest range of hardware available in the market.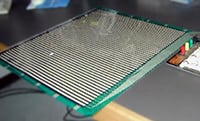 Tekscan Pressure
Mapping Systems
Tekscan is the leading manufacturer of tactile pressure and force measurement systems and sensors. The search for cost-effective tools in the management of pressure-related clinical exams has been a constant source of frustration for clinicians and hospital administrators. Tekscan's paper-thin sensors measure contact force and pressure between virtually any two mating surfaces.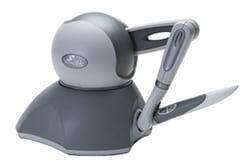 Sensable Phantom Omni
Sensable Technologies' PHANTOM Omni makes it possible for users to touch and manipulate virtual objects. The PHANTOM Omni is the most cost-effective haptic device available today. Portable design, compact footprint, and IEEE-1394a FireWire* port interface ensure quick installation and ease-of-use.
Force Dimension Omega.6
The Omega.6 haptic device has a high-precision pen-shaped end-effector which allows the device to accurately capture the orientation of the hand. The high-precision 6 degrees-of-freedom kinematics interface features its own real-time embedded controller. The device also boasts full gravity compensation and driftless calibration.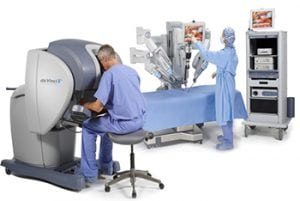 da Vinci® Surgical System
The da Vinci® Surgical System enables surgeons to perform delicate and complex operations through a few small incisions. The da Vinci System consists of several key components, including: an ergonomically designed console where the surgeon sits while operating, a patient-side cart where the patient is positioned during surgery, interactive robotic arms, a 3D HD vision system, and proprietary EndoWrist® instruments. The da Vinci is powered by robotic technology that allows the surgeon's hand movements to be scaled, filtered and translated into precise movements of the EndoWrist instruments working inside the patient's body.

METI Emergency Care Simulator Model ECS090
The METI Emergency Care Simulator is a high fidelity, full-body manikin. The manikin is equipped to simulate clinical scenarios for airway management, pulmonary and cardiovascular complication.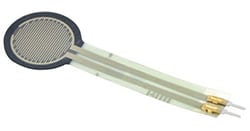 Force Sensitive Resistors
Force sensitive resistors (FSR) are inexpensive and versatile sensing elements utilized in touch detection, touch force quantification, and other force changing applications. They are robust polymer thick film (PTF) sensors that exhibit a decrease in resistance with increase in force applied to the surface of the sensor. These sensors have the capability to be placed onto various manikins, shapes, or surfaces due to their small form factors, low thickness, and flexible shape.
Conductive and Piezoresistive Fabric Sensors
Cloth sensors were fabricated using Stretch Conductive Fabric from Less EMF Inc. and piezoresistive fabric from Eeonyx Corporation. These cloth sensors are very soft and flexible allowing them to be placed near the surface of a simulator without affecting the clinical presentation.
Research Related Software
SPSS
C/C++
Adobe Illustrator
Final Cut Pro
Microsoft Office
MATLAB
LabVIEW
Transana
H3D/Chai3D
RedCap
MVTA