Every day, our faculty, trainees, researchers, and staff do extraordinary things to move surgery forward. Whether it's compassionate patient care, world-class teaching, or innovative research, we're proud to be engaged in the meaningful work of surgery. We're celebrating 2018 by sharing some of our favorite photos from the past year and the stories behind them.
Thank you to all our partners and supporters who helped make 2018 a successful year. We can't wait to see what we accomplish together in 2019!
13. Celebrating our history, present, and future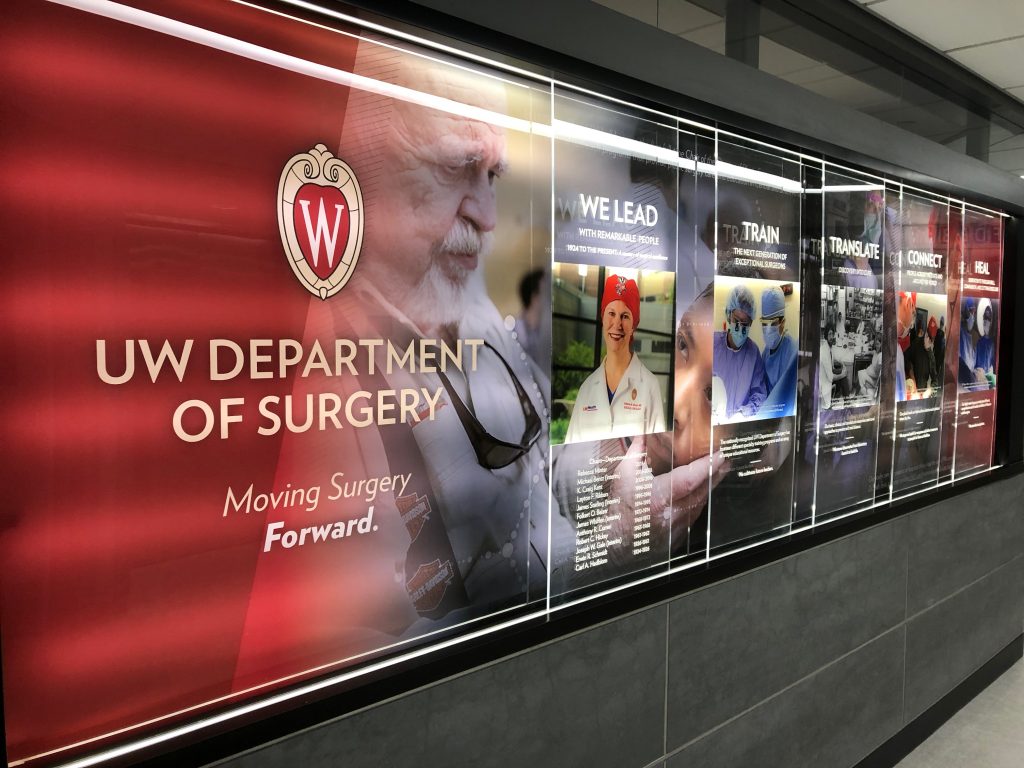 Our new display wall celebrates the Department's past, present, and future on the 3rd floor of the University Hospital. The wall honors those who have made the Department strong, including our donors and supporters.
12. Training for trauma repair
Otolaryngology and plastic surgery residents gather around skull models during the annual Maxillofacial Trauma Course in August. In this hands-on training, residents worked with faculty from both specialties to learn the principles of caring for patients with these types of facial injuries. This course is one of two in the Maxillofacial Trauma Training Series.
11. Taking on obesity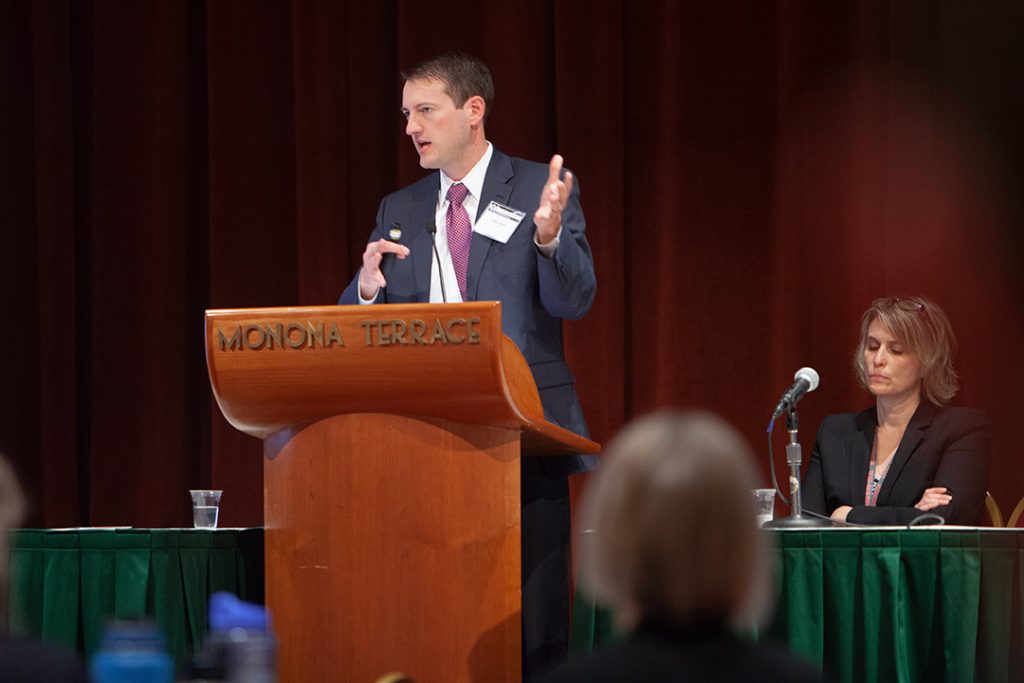 Luke Funk, MD, MPH, opens the inaugural University of Wisconsin Obesity Summit, which was held in May. The summit brought together over 100 healthcare professionals, including surgeons, primary care providers, and nutritionists. Health policy experts and medical experts discussed obesity in Wisconsin. Dr. Funk, a bariatric surgeon, also received an NIH R21 grant for his bariatric surgery research this year.
10. Innovation in the labs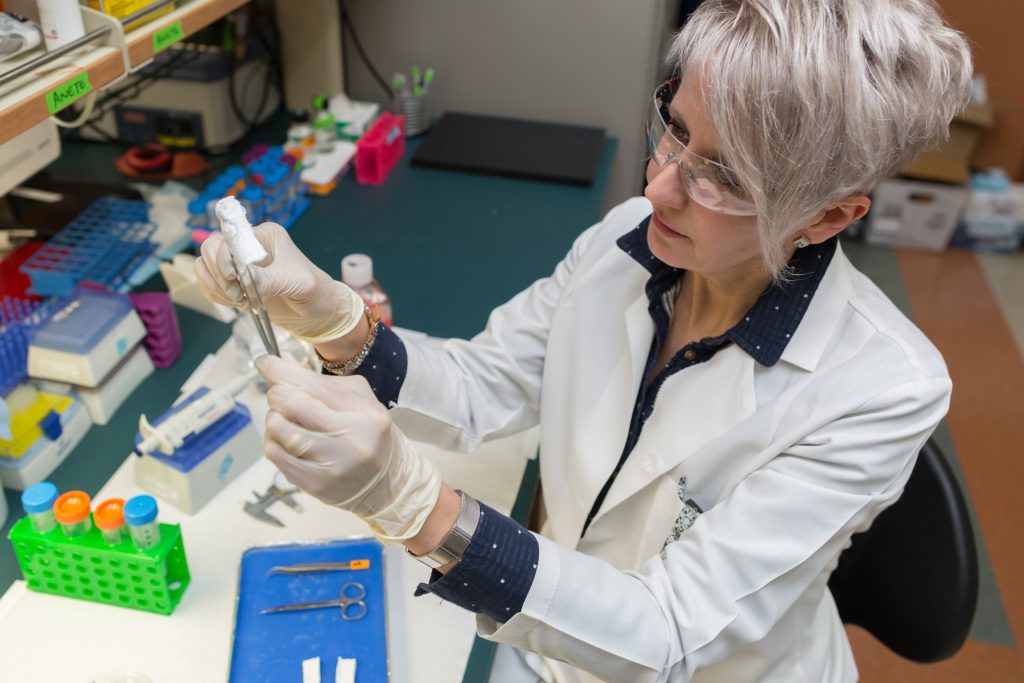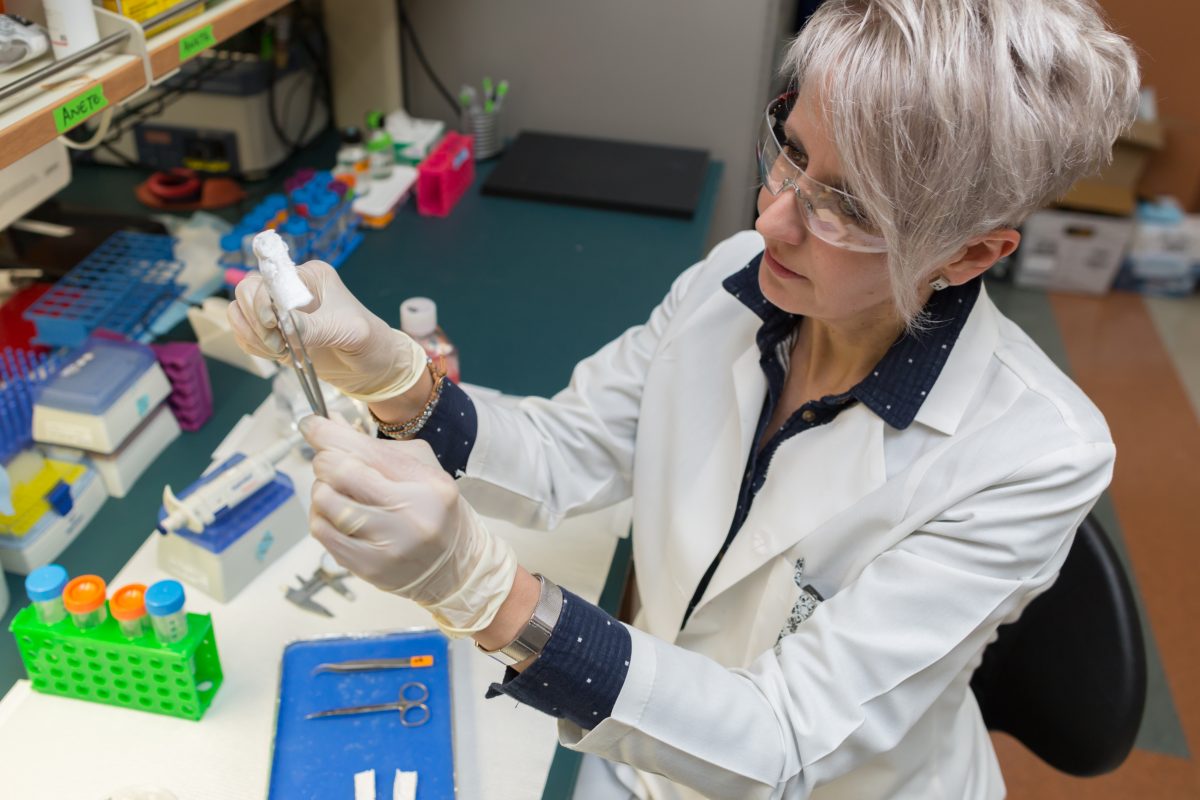 Post-doctoral researcher Anete Branco, PhD, optimizes tecoflex scaffold in the lab of Susan Thibeault, PhD, CCC-SLP. The Thibeault lab studies vocal fold injury and wound healing. The lab has developed unique human cell lines and vibrational bioreactors to aid in this research, which has been awarded multiple NIH R01 grants.
Not only are our labs places of exciting innovation, but they're also places of diversity. The Thibeault lab is staffed by 90% women.
9. In a podcast near you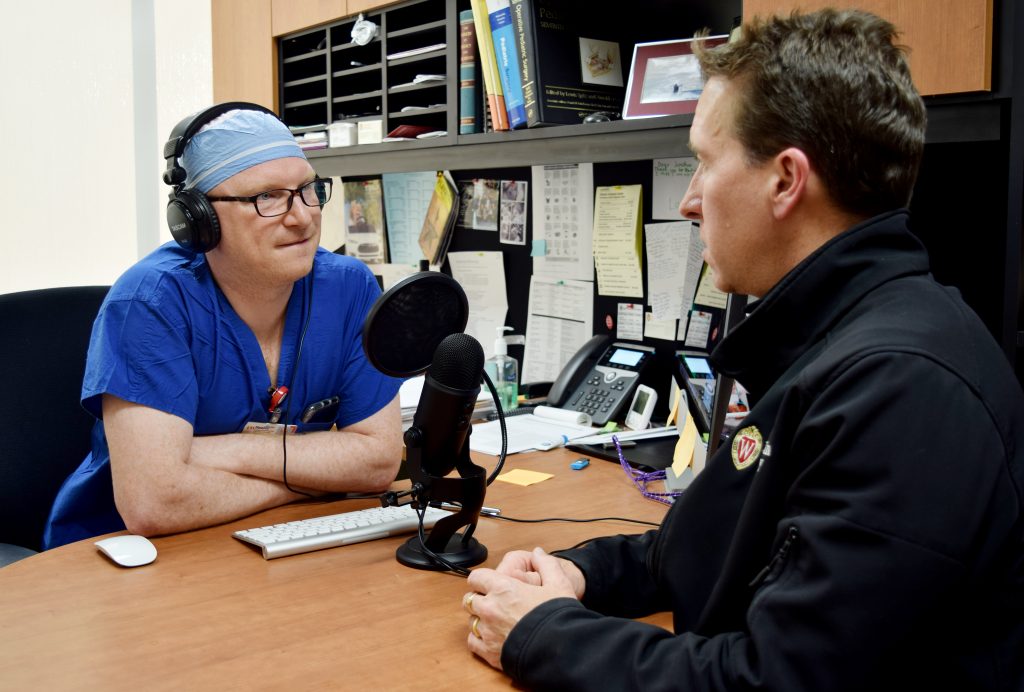 Jonathan Kohler (left), MD, MA, interviews Peter Nichol (right), MD, PhD, for an episode of the Surgery Sett podcast. The podcast, hosted by Dr. Kohler, explores innovations and trends in surgery, and reached its 10,000th download this year.
8. Treating – and researching – cleft palate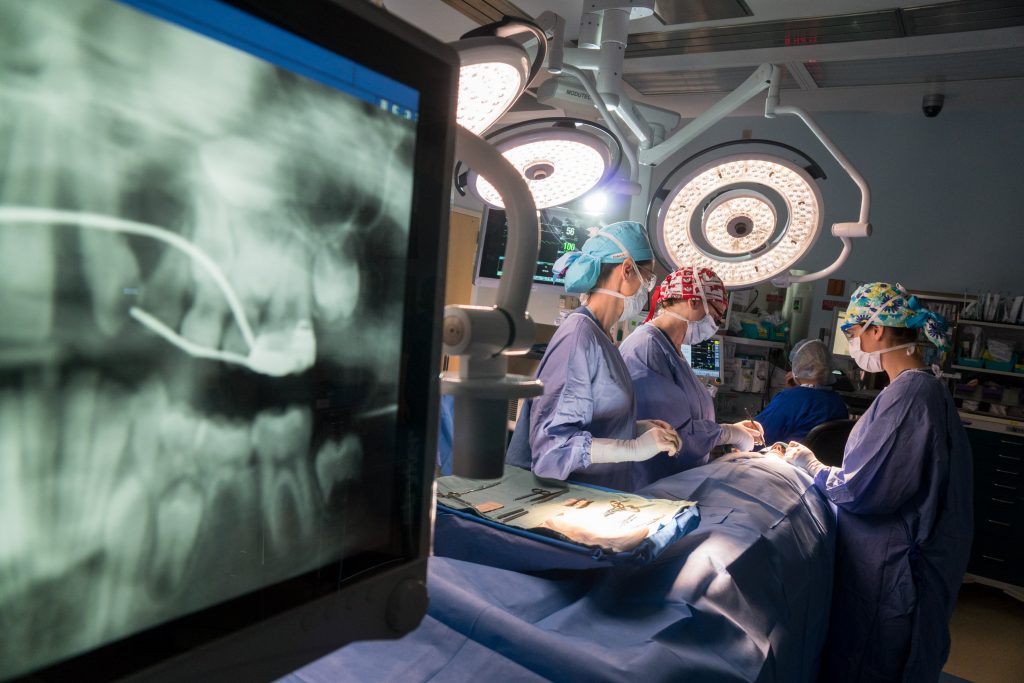 Delora Mount (second from left), MD, completes a cleft palate case. The American Family Children's Hospital Cleft Lip and Palate/Craniofacial Anomalies Clinic, led by Catharine Garland, MD, includes surgeons in plastic surgery and otolaryngology, and audiologists and speech language pathologists. The program was recently awarded an NIH R01 sub-contract to participate in a multi-institutional study on treating cleft palate.
7. The world's smallest bubbles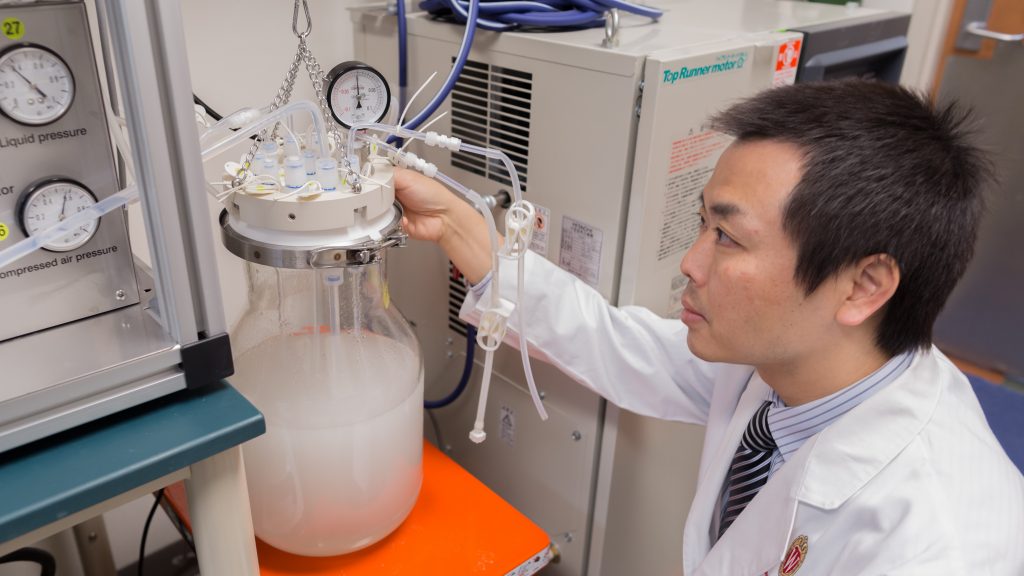 Vascular surgeon and researcher Dai Yamanouchi, MD, PhD, makes oxygen-nanobubble water with the Sigma-5 nanobubble generator, one of the only machines of its kind in the United States. It generates the world's smallest single nanometer-ranged oxygen nanobubble, which the Yamanouchi lab uses to study the effect of nanobubble-derived oxygen delivery to treat ischemic tissue injury.
6. Sending Mary Marshall off in style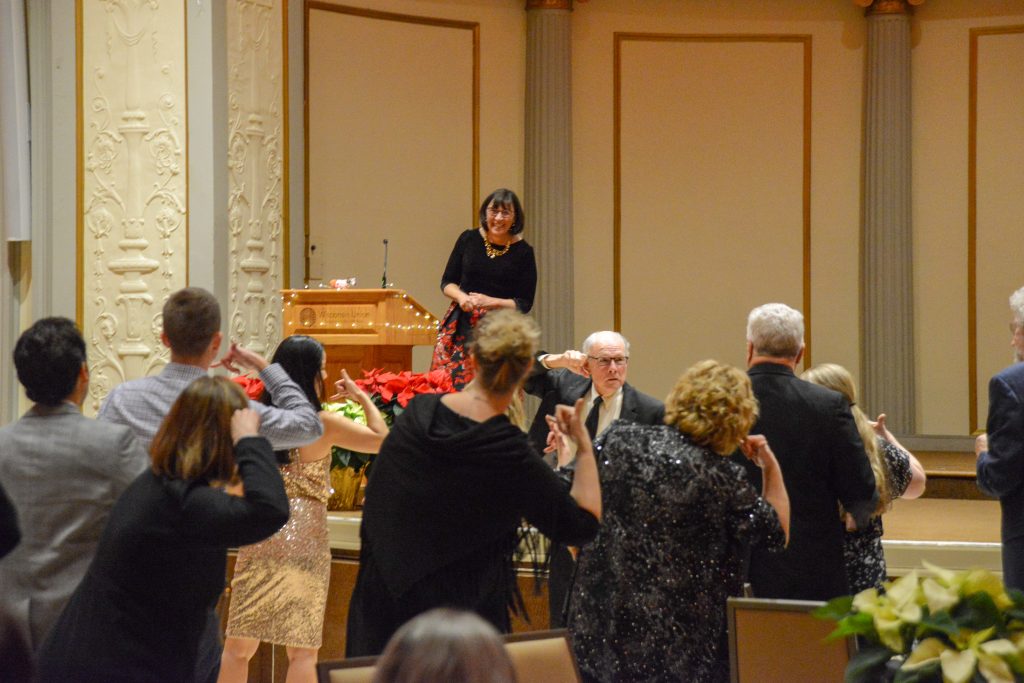 Longtime Department administrator Mary Marshall (center), is honored for her 30 years of service with a flash dance mob at her retirement party. Mary, who was a tireless leader, retired in November.
5. Moving transplantation forward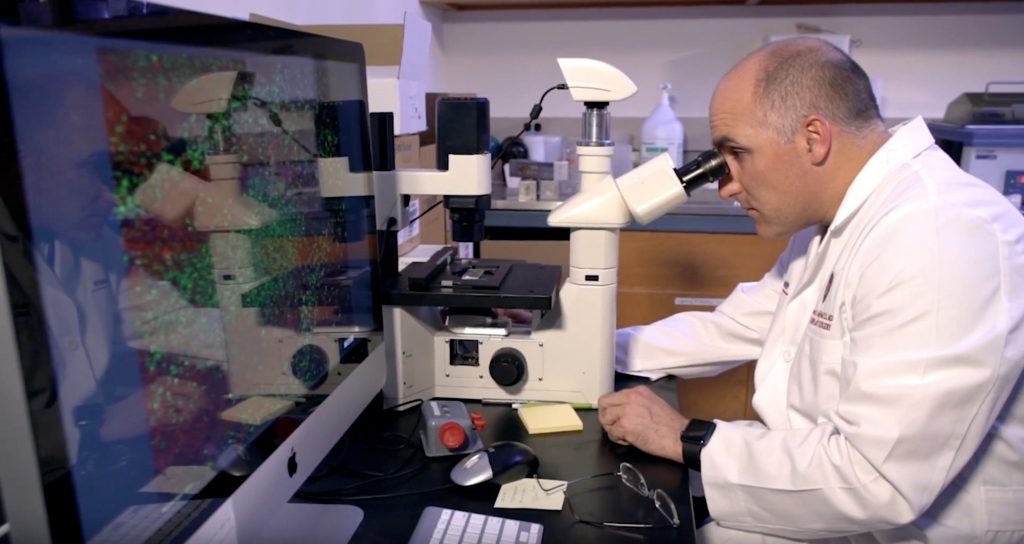 Transplant surgeon Robert Redfield, MD, works in the lab on his xenotransplantation research. Dr. Redfield, who was honored with a UW Vilas Faculty Early Career Investigator Award this year, is a leader in UW's xenotransplantation research, which was profiled by the Wisconsin State Journal. Learn more in this video produced for UW's Fall Bascom Hill Event. Photo by Pigorsch Media Design.
4. Planning surgeries in 3D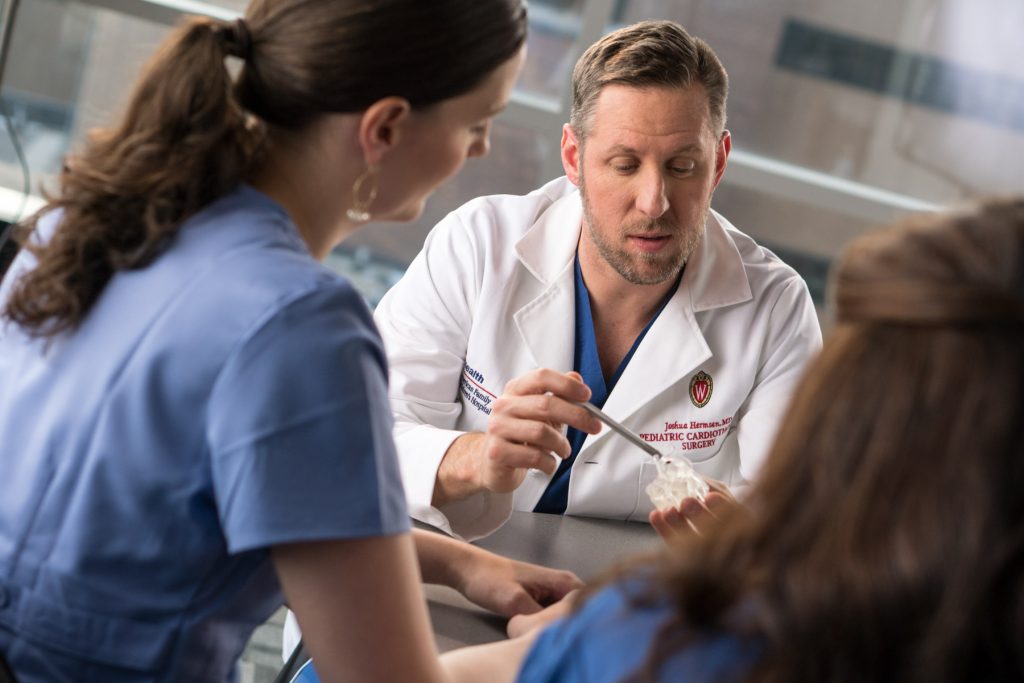 Joshua Hermsen, MD, prepares for pediatric heart surgery with a 3D heart model. Dr. Hermsen and Petros Anagnostopoulos, MD, MBA, Chief of Pediatric Cardiothoracic Surgery, use 3D printed models in their patient care, and in education and research efforts. The 3D heart printing program was featured in an episode of Superhuman, a show featuring medical innovations.
3. Collaborating across Wisconsin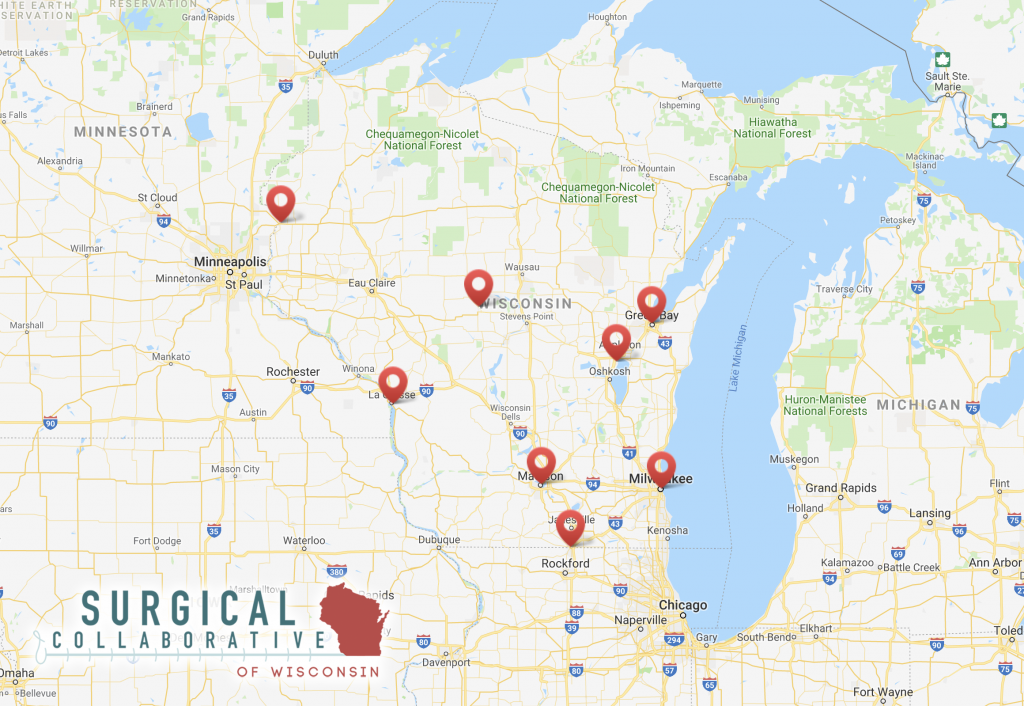 This map displays the locations of hospital-level members of the Surgical Collaborative of Wisconsin (SCW), a surgeon-led practice change community, founded by SCW Director Caprice Greenberg, MD, MPH, and coordinated by the Wisconsin Surgical Outcomes Research Program. SCW connects participating surgeons, hospitals, quality leaders, and state health organizations to work together to optimize quality and reduce costs by improving surgical care. SCW held its first member meetings this year and has launched four quality initiatives focused on repeat breast cancer operations, colorectal surgery, opioid prescribing, and pediatric surgery.
2. Rising to tragic occasions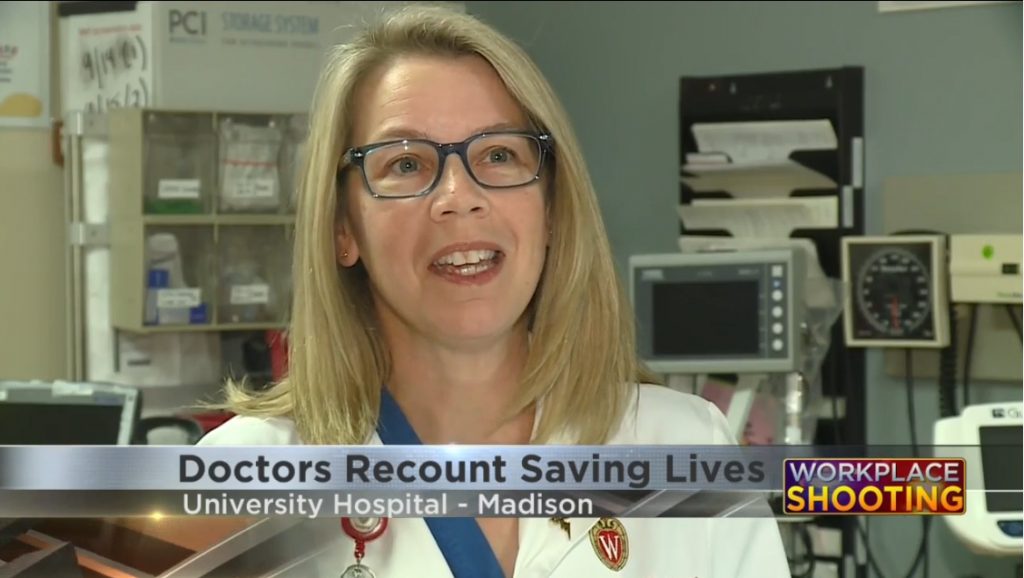 Trauma surgeon Ann O'Rourke, MD, joins local media to discuss the teamwork of our trauma team during emergency response to a workplace shooting in Middleton, Wisconsin. We're proud of their quick actions and effective patient care.
1. Residency goes global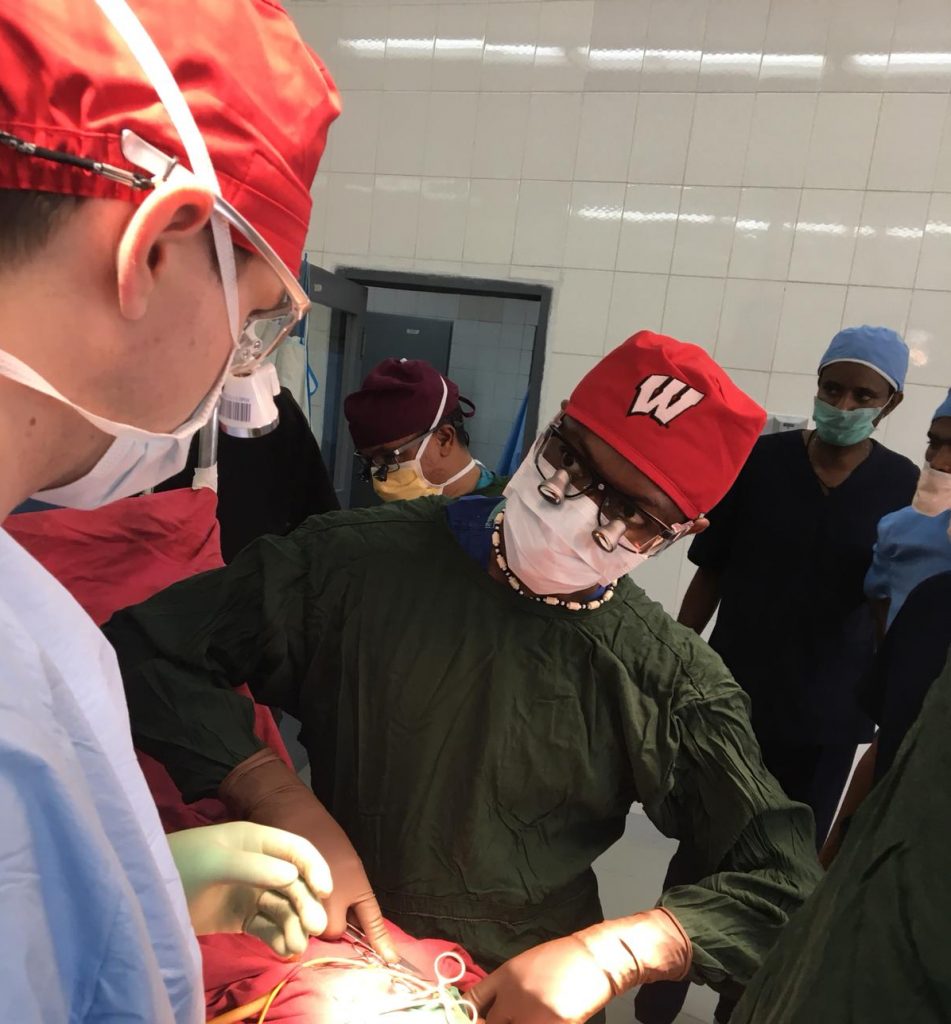 General surgery resident Callistus Ditah (right), MD, and faculty member Paul DiMusto (left), MD, operate during our first ever accredited global surgery residency rotation. Drs. Ditah and DiMusto traveled to the Tikur Anbessa Hospital in Addis Ababa, Ethiopia, for a month-long rotation. Read the full story.